Madison, South Dakota Funeral Homes
Funeral flowers can be sent to any funeral home in Madison, South Dakota. Beautiful sympathy floral arrangements for the ones you love.



Send a beautiful arrangement for around $50
---
321North Egan Avenue
Madison, South Dakota 57042
(605) 256-2221
---
604 N Highland Ave
Madison, South Dakota 57042
(605) 256-0871
---
320 N Egan Ave
Madison, South Dakota 57042
(605) 256-2870
---
Local Obituaries and News
---
DeRungs, Richard "Dick"
May 11, 2013
MONONA/ MADISON - Richard "Dick" DeRungs, age 58, passed away on Thursday, May 9, 2013, at St. Mary's Hospital with his family by his side. He was born on June 5, 1954, in Watertown, S.D., to Alphonse J. and Dorothy E. (Beck) DeRungs. Dick was the youngest ...

(

madison

)
---
Richard "Dick" DeRungs
May 11, 2013
MONONA/MADISON-Richard "Dick" DeRungs ... Dick is survived by his mother, Dorothy; siblings, John A. DeRungs of South Dakota, Thomas D. (Sue Alberti) DeRungs of Delafield, David A. (Michelle) DeRungs of Milton, DeAnn (Gary Anderson) Schaefer ...

(

Channel 3000

)
---
Donna Falk
May 08, 2013
They settled in Cheyenne in 1997. Donna is survived by children Mark Falk, Cheyenne, WY and Joni (David) Kachelhoffer, Newcastle, WY; grandchildren Andrea Falk and Lane Falk, Laramie and their mother Debra Falk, Cheyenne, Charla Kachelhoffer ...

(

Yankton Daily Press

)
---
Dwayne Knight, St. Augustine, Fla.
April 19, 2013
formerly of South Dakota, died Sunday, April 14 ... Dwayne is survived by a brother, Leighton Knight (Nila), Beresford; and one sister, Marian Trumm, Eureka; his daughter, Noelle and husband Bill Farris, Ponte Vedra Beach, Fla.; Valerie Knight Blomquist ...

(

The Daily Republic

)
---
Rocky Mountain Obituaries 5-6-13
May 06, 2013
passed away April 29, 2013. He was born in Fort Collins, Colo., on October 30 ... They lived many places in Colorado, moving from Aurora, to Cope, Fort Morgan, Greeley and finally to the Galeton Area. Glen was a mechanic all of his life and operated ...

(

Fence Post

)
---
Bernice Halvorson
May 11, 2013
MADISON, Minn. — Bernice Halvorson, 81, Madison, died Thursday, May 9, 2013, in a care center at Madison. Funeral services will be Wednesday, May 15 at 11 a.m. in the Faith Lutheran Church at Madison with the Rev. Kirk Meseck officiating.

(

Watertown Public Opinion

)
---
Verne E. Voss
May 08, 2013
Verne E. Voss, 76, of Pierce, died Tuesday ... Stephanie and Kerri Voss, Kim (Earl) Kuennen and Kelly Spier. He was preceded in death by his parents; and a brother, Robert Voss.

(

Sioux City Journal

)
---
Shirley Pichler
May 07, 2013
She graduated from Page High School in 1946. Shirley married Lon Pichler on May 31, 1947, in South Dakota. The family made their home in Grand Island. Shirley worked as a homemaker until her children grew older. She then worked as a housekeeper ...

(

Norfolk Daily News

)
---
Roy Feltman, Chamberlain
April 29, 2013
(Deal) Feltman on the farm south of Chamberlain. He attended country grade school ... Lacee Blankenbeckler and Travis, Worthing; and Kelsey Feltman, Madison; seven great-grandchildren: Elizabeth Jansen, Miranda Rabine, Courtney Feltman, Nicholas Feltman ...

(

The Daily Republic

)
---
Obituaries: Merton Lee Meinicke
April 15, 2013
Mr. Meinicke was born September 2nd, 1916, in Madison, South Dakota. He taught mathematics at Cleveland High School in Portland, OR, for many years. After retirement, Merton and his wife, Helen, moved to Seaside, OR, where he enjoyed volunteering at their ...

(

The Daily Astorian

)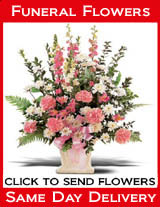 Featured Funeral Homes
---
808 W Pleasant Dr
Pierre, South Dakota 57501
(605) 224-4902
---
518N Main St
Mobridge, South Dakota 57601
(605) 845-3441
---
420 5th Ave
Ipswich, South Dakota 57451
(605) 426-6941
---
80Dunmire Drive
Lead, South Dakota 57754
(605) 584-1561
---
107 W 4th St
Dell Rapids, South Dakota 57022
(605) 428-3900
Funeral Glossary