Front Royal, Virginia Funeral Homes
Funeral flowers can be sent to any funeral home in Front Royal, Virginia. Beautiful sympathy floral arrangements for the ones you love.



Send a beautiful arrangement for around $50
---
105 West Main Street
Front Royal
,
Virginia
22630
(540) 635-2773
---
1200 N Shenandoah Avenue
Front Royal
,
Virginia
22630
(540) 635-4186
---
Send Sympathy Flowers to any Front Royal, Virginia Funeral Home.
---
---
Local Obituaries and News
---
Obituary: Judy Ann Lawrence
March 25, 2014
She was a loving sister. She was preceded in death by father, Archie L. Lawrence Jr.; mother, Patricia Runyon Lawrence; brother, Frank Lawrence; and sister, Kimberly Dawn Lawrence. Surviving are brothers, Charles (Becky) Lawrence of Front Royal ...

(

The Charleston Gazette

)
---
Fauquier authorities: Obituary was faked
January 18, 2012
FRONT ROYAL -- Fauquier County authorities have concluded that an obituary for Ruth Elizabeth Baker that appeared in The Northern Virginia Daily on Jan. 10 was faked. Lt. James Hartman of the Fauquier County Sheriff's Office said Tuesday the same Ruth ...

(

Northern Virginia Daily

)
---
Kenneth Eugene Guin -- Front Royal, Va.
March 12, 2013
Kenneth Eugene Guin, 69, of Front Royal, Va., passed away on Thursday, March 7, 2013, at Winchester Medical Center of esophageal cancer. He was first diagnosed with cancer four years ago and successfully fought it off, but it returned this past summer.

(

Times and Democrat

)
---
Ernest M. "Ernie" Hilsabeck, 61, of Front Royal, Va.
April 23, 2013
FRONT ROYAL, Va. – Ernest M. "Ernie" Hilsabeck, 61, of Front Royal, Va., died Saturday, April 13, 2013, at UVA Hospital in Charlottesville, Va. He was the beloved husband of Cynthia. Ernie also is survived by his parents, Walter Gene Hilsabeck of ...

(

Daily Gate City

)
---
Obituary: Judy Ann Lawrence
March 26, 2014
Surviving are brothers, Charles (Becky) Lawrence of Front Royal, Va., David Lawrence of Campbells Creek, John (Kathy) Lawrence of Georges Creek, Ron (Tracy) Lawrence of Nitro, Billy (Patty) Lawrence of Belle and Daniel Jarvis of Chesapeake; sisters ...

(

Charleston Gazette

)
---
John T (Jack) Duckworth Sr. [Front Royal]
November 12, 2010
FRONT ROYAL, Va. — John T (Jack) Duckworth Sr. 88 of Front Royal, formerly of Westernport, passed away Nov. 7, 2010 at Warren Memorial Hospital. Born on July 13, 1922 in Westernport, he was the son of the late Harry and Dorothy Duckworth.

(

Cumberland Times-News

)
---
Obituaries 6/7
June 08, 2000
FRONT ROYAL, Va. - Elaine Greenwalt Rowe, 82, of Front Royal, and formerly of Hagerstown, died Friday, April 14, 2000, in Front Royal. Born Dec. 10, 1917, in Front Royal, she was the daughter of the late Jesse and Ethel Constance Baggarly Greenwalt.

(

articles.herald-mail.com

)
---
TIMOTHY T. ATHEY [Winchester, Va.]
February 05, 2012
Shenandoah Ave., Front Royal, VA 22630. The family would like to express their deep appreciation for the loving care he received as a resident of Lynn Care. Please view obituaries and tribute wall at www.ompsfuneralhome.com.

(

Cumberland Times-News

)
---
Obituaries: Elizabeth A. 'Bettie' Kuhar, formerly of High Bridge, has died
February 22, 2010
FRONT ROYAL, Va. — Elizabeth A. (Bettie) Kuhar passed away Monday, Feb. 15, 2010 at Loving Arms Assisted Living in Front Royal. She was 82. Born in Plainfield, July 9, 1927, the daughter of George and Virginia Clarke. The family moved in 1931 to the ...

(

New Jersey Online

)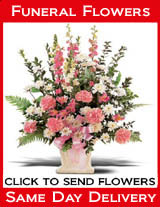 Funeral Homes
---
Funeral Glossary