Friendswood, Texas Funeral Homes
Funeral flowers can be sent to any funeral home in Friendswood, Texas. Beautiful sympathy floral arrangements for the ones you love.



Send a beautiful arrangement for around $50
---
311 North Friendswood Drive
(281) 992-7200
---
Send Sympathy Flowers to any Friendswood, Texas Funeral Home.
---
---
Local Obituaries and News
---
Vera Jo Morrow Nabours
March 28, 2014
Anderson Morrow in Boydston, Texas. She is survived by her husband of 60 years, Kenneth Rex Nabours; daughters, Winnie Pearl Nabours of Friendswood, Texas and Peggy Lynn and husband John Whitters of Amana, IA; son Kenneth Rex Nabours II and wife ...

(

Alvin Sun Advertiser

)
---
Michael Caldwell Keithley
March 26, 2014
He also loved coaching Chad's baseball team all the way to high school. He worked for Peerless Equipment/Trencher Haus for 30 years and then retired from Vermeer Equipment in 2001. On June 12, 1970 he married Brenda Maurine Find of Pearland ...

(

Alvin Sun Advertiser

)
---
Adrian Margie Council
March 25, 2014
Adrian and George Smith were parents to Cheryl Meyer (Jo Bell) of Toronto, Canada, Kellye Robertson (Michael) of Bulverde, Texas, and Cyndi Brumfield (Eric) of Friendswood, Texas. Additionally, Adrian and George raised granddaughters Kayla and ...

(

New Braunfels Herald Zeitung

)
---
Neil W. Easter
March 23, 2014
one sister-in-law, Elaine Taylor and husband Ron of Eatonton, Ga.; two nieces, Karyn Taylor of Savannah ... A visitation will be held on the evening of Sunday, March 23 at the Foster Funeral Home. A mass will be held on Monday, March 24 ...

(

Leader Advertiser

)
---
Keith E. Mack
March 24, 2014
Keith was preceded in death by his parents; and brothers-in-law Roger Swanstrom, Ernie Weber, and Jim Smith. Memorial services will be held at 11 a.m. on Friday, March 28, at Brown Funeral Home in Solon Springs with Father Kinney officiating. Visitation ...

(

Spooner Advocate

)
---
Obituary for Doris Louise Rogers Griffin
February 02, 2009
Doris Louise (Rogers) Griffin, 87, of Friendswood, Texas passed away January 26, 2009. She was born November 30, 1921 in Burkeville, Texas to Floyd and Louise (Harris) Rogers. Doris was a member of the Friendswood Church of Christ. She was preceded in ...

(

Beaumont Enterprise

)
---
James M. Schooley, 77, Friendswood, Texas
May 17, 2011
FRIENDSWOOD, Texas — James Merle Schooley, 77, of Friendswood, passed away on Saturday, May 14, 2011. He was a longtime resident of Friendswood. He was born Aug. 23, 1933, in Montgomery, Pa., the son of the late Merle and Mary (Doctor) Schooley.

(

Daily Item

)
---
Obituary: Jere Lee Thomas
April 27, 2013
Jere and Shirley have one son, Jeffrey and daughter-in-law, Amanda of Spring, Texas; and one daughter, Stephanne and son-in-law, Lennis Ploeger of Friendswood, Texas. They also have five grandchildren, Alexander, Abbegaele and Dane of Friendswood ...

(

waxahachietx.com

)
---
Obituary: Max Harper Jr.
January 08, 2013
Myrlene Kennedy of Friendswood, Texas; and many nieces; nephews; and cousins. In lieu of flowers, donations may be made to Christian Care Center, 900 Wiggins Parkway, Mesquite, TX. 75150 or Fosters Home for Children, P.O. Box 978, Stephenville, TX 76401.

(

waxahachietx.com

)
---
Obituary: C. William Johnson, League City, TX
March 29, 2013
He is survived by his daughter Susan Johnson Barbour and her husband William of Friendswood, Texas; son David Johnson and his wife Bonnie of Mt. Airy, Maryland; brother Lester Johnson and his wife Martha Ann; and grandchildren Nicholas Johnson and Samantha ...

(

Washington Times

)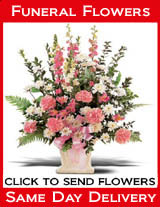 Funeral Homes
---
Funeral Glossary