Friendswood, Texas Funeral Homes
Funeral flowers can be sent to any funeral home in Friendswood, Texas. Beautiful sympathy floral arrangements for the ones you love.



Send a beautiful arrangement for around $50
---
311 North Friendswood Drive
(281) 992-7200
---
Send Sympathy Flowers to any Friendswood, Texas Funeral Home.
---
---
Local Obituaries and News
---
James M. Schooley, 77, Friendswood, Texas
May 17, 2011
FRIENDSWOOD, Texas — James Merle Schooley, 77, of Friendswood, passed away on Saturday, May 14, 2011. He was a longtime resident of Friendswood. He was born Aug. 23, 1933, in Montgomery, Pa., the son of the late Merle and Mary (Doctor) Schooley.

(

Daily Item

)
---
Obituary: Jere Lee Thomas
April 27, 2013
Jere and Shirley have one son, Jeffrey and daughter-in-law, Amanda of Spring, Texas; and one daughter, Stephanne and son-in-law, Lennis Ploeger of Friendswood, Texas. They also have five grandchildren, Alexander, Abbegaele and Dane of Friendswood ...

(

waxahachietx.com

)
---
Sherry Ann Thompson Smith
December 25, 2013
Sherry Ann Thompson Smith ... Alvin, Texas, and Danny Thompson of Gilroy, California. Friends are cordially invited to the visitation with the family on Thursday, December 26, 2013 from 6:00 p.m. to 8:00 p.m. at the Jeter Memorial Funeral Home Chapel ...

(

Alvin Sun Advertiser

)
---
Debra Jo Tatelman - The Alvin Sun-Advertiser: Obituaries
January 15, 2014
Debbie was born March 26, 1956 in Clinton, Iowa. Debbie was a long-time resident of Clinton and Camanche, Iowa before moving to Friendswood nearly 13 years ago. Debbie was a member of Friendswood Community Church. Debbie was an incredible mother and a ...

(

Alvin Sun Advertiser

)
---
Violet "Vi" Bucella Newsome
February 27, 2013
Friendswood Dr., Friendswood, Texas 77546 with Rev. Jim Bass officiating. A reception will follow at 3:30 P.M. at Friendswood United Methodist Church, 110 N. Friendswood Dr., Friendswood, Texas 77546. Interment will be Sunday, March 3, 2013 at 2:00 ...

(

Port Arthur News

)
---
Obituary: C. William Johnson, League City, TX
March 29, 2013
League City, TX May 30, 29127 March March 29, 2013 ― Charles Johnson died on March 27, 2013 in League City, TX, of chronic myeloid leukemia. He will be interred at Houston National Cemetery, near his late wife, Nancy Faye Pyles Johnson. He is survived by ...

(

Washington Times

)
---
Cindy Sanders
November 22, 2013
Mary LuCinda (Cindy) Sanders, 66, of Grapeland, Texas passed away on Wednesday, Nov. 13, 2013. Cindy was born in Gause, Texas on April 12, 1947 to Mary Hernandez and Z.T. Johnson. She married her best friend James C. Sanders Jr. on Nov. 5, 1994.

(

Palestine Herald-Press

)
---
Obituary: Max Harper Jr.
January 08, 2013
Myrlene Kennedy of Friendswood, Texas; and many nieces; nephews; and cousins. In lieu of flowers, donations may be made to Christian Care Center, 900 Wiggins Parkway, Mesquite, TX. 75150 or Fosters Home for Children, P.O. Box 978, Stephenville, TX 76401.

(

waxahachietx.com

)
---
Obituary for Doris Louise Rogers Griffin
February 02, 2009
Doris Louise (Rogers) Griffin, 87, of Friendswood, Texas passed away January 26, 2009. She was born November 30, 1921 in Burkeville, Texas to Floyd and Louise (Harris) Rogers. Doris was a member of the Friendswood Church of Christ. She was preceded in ...

(

Beaumont Enterprise

)
---
Billy Westmoreland
September 20, 2011
WEATHERFORD — Billy Neil Westmoreland's journey through life ended peacefully July 17, 2011, at his home in Friendswood, Texas, surrounded by his loving family. His journey began May 7, 1941, in Clovis, N.M., where he was born to Walter Neil and Billy ...

(

Weatherford Democrat

)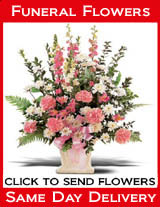 Funeral Homes
---
Funeral Glossary