Baytown, Texas Funeral Homes
Funeral flowers can be sent to any funeral home in Baytown, Texas. Beautiful sympathy floral arrangements for the ones you love.



Send a beautiful arrangement for around $50
---
3919 Garth Road
(281) 422-8181
---
7623 Harrison
(281) 426-5579
---
1308 S Highway 146
(281) 837-1509
---
| | |
| --- | --- |
| Send Funeral Flowers to a Baytown, Texas funeral home. Beautiful sympathy flowers for the ones you love. | |
---
6123 Garth Road
(281) 839-0700
---
2444 Rollingbrook Ave
(281) 422-8111
---
6505 Decker Dr
(281) 838-4000
---
Send Sympathy Flowers to any Baytown, Texas Funeral Home.
---
---
Local Obituaries and News
---
DeJuanTerell "Bucky" Williams
March 27, 2014
A life celebration will be held Saturday, March 29, 2014 at San Jacinto Christian Church, 710 Alamo Baytown, Texas 77521, with a visitation beginning at 9:00am to 10:55am. With a life celebration beginning at 11:00am with Pastor J. Michael ...

(

Baytown Sun

)
---
Ruth Emily Morris Porter
March 29, 2014
Family and friends are invited to attend a memorial service at St. Paul's Lutheran Church, 712 Schilling Avenue, Baytown, on Sunday, March 30, 2014, at 4:00 p.m. Ruth Emily Morris Porter was surrounded by family as she peacefully passed away ...

(

Baytown Sun

)
---
Saxton, Norma R.
March 26, 2014
A graveside will be 2 p.m., Friday, March 28, at Hillcrest Cemetery in Marlin with ... Woody of Waco. Norma Rae is also survived by her great grandchildren; William Clayton Saxton and Colt McCoy Saxton of Tomball, Texas, Kaidyance Tristyne ...

(

Waco Tribune-Herald

)
---
Jeannene Myers
March 27, 2014
HUNTSVILLE — Jeannene Myers, passed away at her home in Huntsville on Tuesday, March 25, 2014. A time for family to receive friends will be from 10:00 to 1:00 p.m. on Saturday, March 29, 2014 at Cooks Springs Baptist Church, 1936 Hwy 75 N. in Huntsville.

(

Huntsville Item

)
---
Albertha Harmon, 79, of Baytown
June 05, 2012
Funeral Service for Albertha Harmon, 79, of Baytown, Texas, will be held at 11:00 AM on Saturday, June 9, 2012 at First Baptist Church of Devers, with Elder Lawrence White, Sr. officiating with burial in Wells Memorial Cemetery under the direction of Wells ...

(

thevindicator.com

)
---
Charles Blake Coker, 32, of Baytown
March 15, 2013
To view the online obituary or to post a tribute for the family, go to www.navarrefuneralhome.com Arrangements are under the direction and personal care of Navarre Funeral Home & Cremation Services, 2444 Rollingbrook Dr., Baytown, TX, 77521, 281-422-8111.

(

thevindicator.com

)
---
Raymond Miller Obituary
November 20, 2013
Raymond James Miller, 60, of Baytown, Texas was born Dec. 6, 1952, in Helena, and passed away Wednesday, Nov. 13, 2013, in a Houston hospital. He was a 1971 graduate of Central High School in Helena, where he was on the football and baseball teams and a ...

(

Helena Daily World

)
---
Obituary; Don Haley
January 03, 2014
Don Haley, 72, of El Dorado left this world to be with the Lord on Tuesday, Dec. 31, 2013. Don was born Dec. 9, 1941, in Baytown, Texas, to Eva Haley. Don was a U.S. Air Force veteran and a master electrician for 50 years. He was an avid race car driver ...

(

Courier News

)
---
OBITUARY: Mary Ada Grantham
April 17, 2012
Mary Ada Grantham went to meet the Lord April 14 in Rio Rancho. She was born Nov. 14, 1910 in Valley Springs, Texas. Mary was a long time member of Memorial Baptist Church in Baytown, Texas where she lived for over 45 years. She is preceded in death by her ...

(

rrobserver.com

)
---
Carl M. Glenn Jr.
February 13, 2014
Funeral services will be at 11 a.m. Thursday, Feb. 13, 2014, at Navarre Funeral Home, 2444 Rollingbrook Drive, Baytown, TX 77521, with burial to follow at Houston National Cemetery. To view the obituary, post a tribute to the family or gather details ...

(

Cleburne Times-Review

)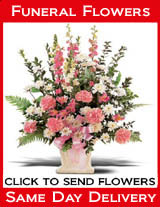 Funeral Homes
---
Funeral Glossary