Local Obituaries and News
---
Obituary: Robert L. Sunseri / An important part of Pennsylvania Macaroni Co.
October 16, 2013
Robert Sunseri, who spent most of his life working at his family's grocery, Pennsylvania Macaroni Co., and helped grow it into one of the Strip District's iconic retail destinations, died Sunday at Sunrise of Upper St. Clair. The cause of death was heart ...

(

Pittsburgh Post-Gazette

)
---
Obituaries from across the D.C. region
December 06, 2013
"Star Wars" stormtroopers march on the Capitol, a rocket lift-off and more. Helen F. Michaelian, a registered nurse who worked in the Washington area for more than two decades, died Nov. 28 at Rockville Nursing Home. She was 85. The cause was ...

(

Washington Post

)
---
Obituary of Barbara Summey, 83
December 06, 2013
Barbara Jean (Hall) Summey, of Milesburg, Pa. died December 4, 2013 at her home at the age of ... Barb and Johnny lived in York, Maine until their retirement, then moved to Lady Lake, FL. for many years. After the death of her husband, Barb moved to ...

(

State College

)
---
Obituary: George M. Leader / Former Pennsylvania governor, founder of retirement communities
May 09, 2013
Former Gov. George M. Leader, who headed Pennsylvania's government from 1955 to 1959 and remained active in politics for decades thereafter, died Thursday. He was 95. Two grandchildren were with Mr. Leader when he died at 5 a.m. at his home at Country ...

(

Pittsburgh Post-Gazette

)
---
Frances C. Vannoy
December 08, 2013
Frances C. Vannoy DOYLESTOWN, PA - Frances C. Vannoy died on Dec. 3, 2013, in Doylestown Hospital. Born in Pennington, Ms. Vannoy had lived in the Bucks County area for many years. She graduated from Central High School, Pennington, and The Pennsylvania ...

(

NJ.com

)
---
Bell, William B. "Pa Pa"
November 08, 2013
LINDEN — Services for William B. "Pa Pa" Bell, 93, of Douglassville, will be 1 p.m. Saturday, November 9, 2013, at St. John Missionary Baptist Church in Douglassville. Interment will follow in Panhandle Cemetery. Arrangements are by Reeder-Davis Funeral ...

(

legacy.com

)
---
Paul E. Tanner, 86, Danville
December 08, 2013
The family will provide flowers. Memorials in Paul's memory may be made to St. Paul's (Straub's) Lutheran Church, Frost Valley Road, Danville, PA 17821. MIFFLINBURG — Curtis Vincent Englehart, 54, of 2745 Pleasant Grove Road for the past 30 years ...

(

Daily Item

)
---
James D. Goodwin "Pa Pa"
December 08, 2013
Funeral services for James D. Goodwin, 76, of Brazoria are pending with Dixon Funeral Home of Brazoria. He passed away on Saturday, December 7, 2013 at Brazosport Regional Health System in Lake Jackson, TX.

(

Brazoria Facts

)
---
Kalamazoo-area obituaries today: Antonia Brooks, 80, of Texas Township
December 09, 2013
Brooks was born in Palmerton, PA on May 10, 1933, the daughter of the late Frank and Victoria (Bednar) Vido. She graduated from Penn State University, where she met her husband, Carter Brooks, who survives. They were married on September 1, 1956, while he ...

(

MLive.com

)
---
Eleanor R. Hoy, 83, Mifflinburg
December 08, 2013
MIFFLINBURG — Eleanor Ruth (Hoffman) Hoy, 83, of 100 E. Walnut St., since 1994, entered into rest Saturday evening, Dec. 7, 2013, at Buffalo Valley Lutheran Village, Lewisburg. She was born Sept. 11, 1930, in Lewis Township, Union County, in the home of ...

(

Daily Item

)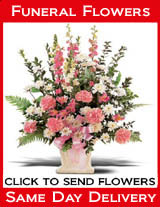 Funeral Homes
---
Funeral Glossary