Orwell, Ohio Funeral Homes
Funeral flowers can be sent to any funeral home in Orwell, Ohio. Beautiful sympathy floral arrangements for the ones you love.



Send a beautiful arrangement for around $50
---
140 East Main Street
(440) 437-8242
---
Send Sympathy Flowers to any Orwell, Ohio Funeral Home.
---
---
Local Obituaries and News
---
Norma G. Aliff
July 23, 2013
Burial will follow at the Orwell North Cemetery, Orwell, Ohio. Arrangements by THE PAINE FUNERAL HOME, INC., of Orwell, Ohio. Obituary and condolences at starbeacon.com.

(

Ashtabula Star-Beacon

)
---
CARL L. OLAH Jr.
September 05, 2013
OLAH CARL L. OLAH JR. "Rockie" age 56, passed away Aug. 31, 2013 in Cleveland, OH. He was the beloved son of Carl L. Olah Sr. and Carollyn J. Olah (Irvine) born April 18, 1957. He was a life long resident of Orwell, OH. Carl was a Registered Nurse.

(

Cleveland Plain Dealer

)
---
Jade Marie Beiter
November 08, 2005
Preceded in death by her infant son, David, she is survived by her daughter, Jade; mother, Paula Liedtke of Orwell, Ohio; father, David T. Beiter Sr. and his friend, Dimie Hill, of Akron; brother, David Jr.; sisters, Ashley and Abagail of Orwell ...

(

legacy.com

)
---
Charles C. Chuck Borland Jr.(1950 - 2013)
August 08, 2013
Chuck was an avid hunter, fisherman and golfer. Surviving are his wife, Margaret "Peggy" Geer Borland, who he married on April 15, 1972; a daughter, Erica Clason and her husband, Mark, of Orwell, Ohio; a son, Andrew Borland and his wife, Chrystal ...

(

legacy.com

)
---
CHRISTOPHER MARK TADSEN
June 25, 2013
MAIN ST., ORWELL, OH 44076 ON WEDNESDAY, JUNE 26 FROM 3:00-4:45 P.M. A funeral service will take place same day at 5:00 p.m. Following the services a reception will be take place at the Morgan Hose Volunteer Fire Dept., Rock Creek, OH. No flowers please.

(

Cleveland Plain Dealer

)
---
Harold Harris
July 07, 2013
Upon earning his PhD from Ohio State University in 1954 ... He published much scholarly work, including studies of writers James Joyce, George Orwell and Fyodor Dostoyevsky. Critical of the left wing, counter-cultural direction many colleges were taking ...

(

MLive.com

)
---
OBITUARY: David Duane Diehl
November 09, 2009
David Diehl of Camp Lejeune, N.C.; and four daughters, Brenda Wagner of Clayton ... Interment will be in the Barratt's Chapel Cemetery, near Frederica.

(

Dover Post

)
---
Lester C. Marrison, Ashtabula County dairyman
June 28, 2010
Marrison Scholarship Fund at the ACJVS, 1565 St. Rt. 167, Jefferson, OH 44047 or the Country Neighbor Program, P.O. Box 212, Orwell, OH 44076. Guest register book and obituary on-line at fleming-billman.com.

(

Farm and Dairy

)
---
John William Brindo III
July 14, 2013
John William Brindo III, 62 years of age of Hiram Township, Ohio, passed away Wednesday July 10 ... the Hiram Police Department and the Orwell Police Department, presently serving with the Garrettsville Police Department., Badge No. 912.

(

Recordpub

)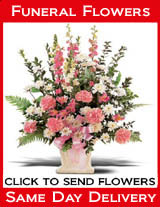 Funeral Homes
---
Funeral Glossary