Andover, Ohio Funeral Homes
Funeral flowers can be sent to any funeral home in Andover, Ohio. Beautiful sympathy floral arrangements for the ones you love.



Send a beautiful arrangement for around $50
---
134 Prospect Street
(440) 293-4444
---
Send Sympathy Flowers to any Andover, Ohio Funeral Home.
---
---
Local Obituaries and News
---
Linda S. Bryer DeJohn
March 20, 2014
She is further survived by many nieces and nephews. In addition to her mother, she was preceded in death by a sister, Sharon Bryer. Visitation will be from 10 a.m. until time of sharing at noon on Saturday at Hatheway-Tedesco Funeral Home & Crematory ...

(

Meadville Tribune

)
---
Patricia J. Summers
January 14, 2014
(Patti O'Malley) Summers, age 67, of Andover, Ohio, died Monday, Jan. 13 ... 66675 or a local charity of your choice. Obituary and condolences at starbeacon.com.

(

Ashtabula Star-Beacon

)
---
Frederick J. McNeilly Sr.
April 12, 2010
Arrangements handled by BAUMGARDNER FUNERAL HOME, Andover, Ohio. Obituary and condolences at www.baumgardnerfuneralhomes.com and starbeacon.com.

(

Ashtabula Star-Beacon

)
---
Albert Essen Sr.
March 17, 2014
age 84 of Andover, formerly of Rush City passed away March 12, 2014 at home surrounded by family in Andover ... 2014 at Faith Lutheran Church of Coon Rapids, MN (11115 Hanson Blvd. NW); with a time of visitation one hour prior to the service at the ...

(

Grand Rapids Herald-Review

)
---
Lee Frame, Jr.
March 12, 2014
Lee Frame, Jr., of Andover, Ohio, died Monday, March 10, 2014, at St. Joseph Health Center in Warren, OH. He was born September 3, 1932, in Camden-on-Gauley, WV, a son of William Lee and Dora Alice (Doddrill) Frame. A long time area resident, Mr. Frame was ...

(

Recordpub

)
---
Obituaries for Berea, Brook Park and Middleburg Heights
October 22, 2011
Interment was at Holy Cross Cemetery. Faith Petri-Brown Former Berea resident Faith Petri-Brown, 73, of Andover, Ohio, died Oct. 10 at the Andover Village Retirement Community. She was a registered nurse who spent most of her 40-year career at Southwest ...

(

Cleveland Plain Dealer

)
---
Obituaries for Berea, Brook Park and Middleburg Heights
October 29, 2011
Chambers Funeral Home, Berea, handled the arrangements. Faith Petri-Brown Former Berea resident Faith Petri-Brown, 73, of Andover, Ohio, died Oct. 10 at the Andover Village Retirement Community. She was a registered nurse who spent most of her 40-year ...

(

Cleveland Plain Dealer

)
---
Dr. Teresa Royer MacKnight, 57, Andover, Maine
August 18, 2010
ANDOVER, Maine — Dr. Teresa "Terri" Royer MacKnight ... Dr. MacKnight practiced medicine in Hollywood, Fla., Seattle, Wash., Negley, Ohio, and Beaver, Pa., before moving to Maine in 1990. She practiced medicine in Rumford until being disabled by ...

(

Daily Item

)
---
DeeDra A. Pilson
August 17, 2013
ANDOVER, Ohio — DeeDra A. Pilson, 46 ... Jefferson St., Jefferson, Ohio, is handling arrangements. View the guest book and obituary at fleming-billman.com.

(

Meadville Tribune

)
---
Paid Obituaries
September 19, 1993
RUSSELL - Ford Bliss September 8, 1894 September 15, 1993. Ford Bliss Russell was born in Andover, Ohio on September 8, 1894, the son of John and Lena Russell of West Andover, Ohio. He subsequently graduated from Andover High School following which he went ...

(

SunSentinel

)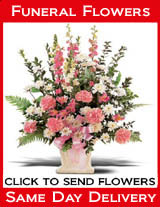 Funeral Homes
---
Funeral Glossary