Andover, Ohio Funeral Homes
Funeral flowers can be sent to any funeral home in Andover, Ohio. Beautiful sympathy floral arrangements for the ones you love.



Send a beautiful arrangement for around $50
---
134 Prospect Street
(440) 293-4444
---
Send Sympathy Flowers to any Andover, Ohio Funeral Home.
---
---
Local Obituaries and News
---
Helen Eccles, 86
March 04, 2014
In addition to her role as a faculty wife, Skip pursued a journalism career that included positions ... support causes committed to expanding opportunities for all. Together they helped conceive and direct the Andover-Dartmouth Summer Teacher's Institute ...

(

Eagle-Tribune

)
---
James A. Shreve Sr.
February 25, 2014
(Pat) Shreve of Orwell and Joel (Betty) Shreve of Andover; one sister, Sandy (Leo) Dudley of New Philadelphia, Ohio; and many nieces and nephews. He was preceded in death by his parents; step-mother, Rosa Shreve; and two brothers, David Shreve and Andrew Lake.

(

Ashtabula Star-Beacon

)
---
Patricia J. Summers
January 14, 2014
(Patti O'Malley) Summers, age 67, of Andover, Ohio, died Monday, Jan. 13 ... 66675 or a local charity of your choice. Obituary and condolences at starbeacon.com.

(

Ashtabula Star-Beacon

)
---
Dr. Teresa Royer MacKnight, 57, Andover, Maine
August 18, 2010
Rod Royer, of Salt Point, N.Y.; and one sister, Robin Yost, of Milton, Pa. A memorial service will be conducted 1 p.m. Monday at the Andover Congregational Church, Andover, Maine, with the Rev. Jane Rich officiating. Those who desire in lieu of flowers ...

(

Daily Item

)
---
Carmella M. (Cam) Lance
January 09, 2008
ANDOVER, Ohio — Carmella M. (Cam) Lance, 81, of Andover, Ohio, died Monday, Jan. 7, 2008, at Hospice of the Western Reserve in Cleveland, Ohio. She was born Dec. 2, 1926, in Meadville, a daughter of Frank Catalano Sr. and Margaret Quoresimo Catalano.

(

Meadville Tribune

)
---
Obituaries for Berea, Brook Park and Middleburg Heights
October 22, 2011
Interment was at Holy Cross Cemetery. Faith Petri-Brown Former Berea resident Faith Petri-Brown, 73, of Andover, Ohio, died Oct. 10 at the Andover Village Retirement Community. She was a registered nurse who spent most of her 40-year career at Southwest ...

(

Cleveland Plain Dealer

)
---
David Brown, 51
June 26, 2013
Dave is survived by his wife, Carla; children, Rebecca, Timothy, Amy and Nathan Brown; mother, Deborah; siblings, Robert (Linda) Brown, Thomas (Tram) Brown, Nancy (Scott) Stephens, Jack (Kelly) Brown and Janet (Denver) Simmonds; stepmother, Barbara Brown ...

(

Andover Townsman

)
---
Obituaries for Berea, Brook Park and Middleburg Heights
October 29, 2011
She was a registered nurse who spent most of her 40-year career at Southwest General Hospital (now Health Center) in Berea and Middleburg Heights, where she was head nurse and also Northeast Ohio diabetic care coordinator before her retirement in 1996.

(

Cleveland Plain Dealer

)
---
Earl M. Overmoyer
April 17, 2011
ANDOVER, Ohio — ANDOVER, Ohio — Earl M. Overmoyer, 96, of Andover, Ohio, died Sunday, April 17, 2011, at Saybrook Landing in Ashtabula, Ohio. He was born Sept. 13, 1914, in Williamsfield, Ohio, a son of James Melvin and Abbie C. (Hall) Overmoyer.

(

Meadville Tribune

)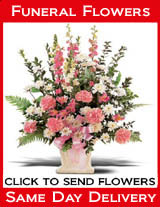 Funeral Homes
---
Funeral Glossary