Matthews, North Carolina Funeral Homes
Funeral flowers can be sent to any funeral home in Matthews, North Carolina. Beautiful sympathy floral arrangements for the ones you love.



Send a beautiful arrangement for around $50
---
3700 Forest Lawn Drive
Matthews
,
North Carolina
28104
(704) 846-3771
---
4431 Old Monroe Road
Matthews
,
North Carolina
28105
(704) 821-2960
---
4715 Margaret Wallace Rd At Idlewild
Matthews
,
North Carolina
28105
(704) 545-3553
---
Send Sympathy Flowers to any Matthews, North Carolina Funeral Home.
---
---
Local Obituaries and News
---
Mrytle Bettis
December 02, 2013
She was educated in Salisbury-Rowan County Schools, in North Carolina. Myrtle was a 1961 graduate of Livingstone ... Myrtle was preceded in death by her sister, the late Doris McClain Davis. Survivors include her husband, Harry L. Bettis; brothers ...

(

legacy.com

)
---
Samuel Forbis Matthews
September 15, 2013
Sam was born on December 13, 1935 at the residence of his grandparents, Mr. and Mrs. Ged F. Price, in Monroe, NC to the late Samuel Franklin and Billie Frank Price Matthews of Monroe. He graduated from Wingate Junior College (1960) and North Carolina State ...

(

legacy.com

)
---
Thornton Long, 69, native of Wilkes, dies in Matthews
July 16, 2013
Thornton Douglas Long, 69, of Charlotte died Monday, July 15, 2013 at Matthews ... Long of North Wilkesboro; and one brother, William Long Sr. and wife, Edna, of North Wilkesboro. Memorials may be made to American Lung Association of North Carolina ...

(

Wilkes Journal Patriot

)
---
Lillian Gilbert Matthews, 79
May 27, 2012
Lillian Gilbert Matthews, of Davidson, North Carolina, died on May 14, 2012. Lil was born in Spruce Pine, North Carolina, on Jan. 4, 1933. Her family had few material possessions during the Depression, and in her early years she learned to enjoy the simple ...

(

DavidsonNews

)
---
Dorothy R. Matthews
June 22, 2013
Dorothy R. Matthews, 79, formerly of Penn Valley ­Village, Lititz passed away on Wednesday, June 19, 2013 at Lancashire Hall. Born in Fayetteville, North Carolina, she was the daughter of the late George O. and Nora B. Dorman Robinson. She was the wife of ...

(

Lancaster Online

)
---
Funeral planned for UPS flight pilot Cerea Beal Jr. in North Carolina
August 18, 2013
MATTHEWS, North Carolina--Cerea Beal Jr., the pilot killed Wednesday when UPS Flight 1354 crashed in Birmingham, will be laid to rest Tuesday, Aug. 20 in Charlotte, N.C. Beal's funeral will take place at Mt. Carmel Baptist Church at 7237 Tuckaseegee Rd ...

(

Everything Alabama Blog

)
---
Obituary – Lowry Matthews Betts
July 11, 2007
Lowry Matthews Betts, 76, died peacefully at his home ... 1996 but continued as an emergency judge holding court in various North Carolina cities. He maintained membership in district and state bar associations until several months before his death.

(

The Carrboro Citizen

)
---
June Matthews Hickman
May 02, 2012
June Matthews Hickman of Raleigh, North Carolina, passed away on May 1, 2012, after a courageous battle with esophageal cancer. She was born in Clinton, North Carolina, on March 4, 1967, to Grace and David Matthews Jr. June is survived by her daughter ...

(

The State Port Pilot

)
---
Rev. Dr. William Franklin Matthews Sr.
January 27, 2011
Rev. Dr. Matthews was born Oct. 4, 1922, in Sharon, a son of James and Sadie Matthews. He graduated from Sharon High School and he attended North Carolina College for Negroes, State University, and S.M.E.A. Bible Institute in Transfer. In 1988, he received ...

(

The Herald

)
---
James "Jimbo" Lee Matthews
February 28, 2013
We could always find him at the pier waiting to hook "the big one!" For his family ... He also leaves behind his four sisters: Wynter Rayne of Beaverton, Oregon; Dottee (Wes) Odom of Saratoga Springs, Utah; Jeannie (Bob) Taylor of Holly Springs ...

(

imperialbeachnewsca.com

)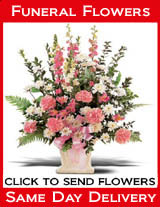 Funeral Homes
---
Funeral Glossary