Local Obituaries and News
---
Willie Highsmith Jr.
May 13, 2013
There was an air about him that was collected ... 2013 at 3 pm in Albert G. Horton Jr. Memorial Veterans Cemetery, Suffolk, Virginia. Alt-meyer Funeral Home, Denbigh Chapel, is in charge of arrange-ments. Online condolences may be shared with the family ...

(

NJ.com

)
---
Orlando E. Saa Ph.D.
May 12, 2013
Be the first to share your memories or express your condolences in the Guest Book for Orlando E. Saa Ph.D.. ORLANDO E. SAA, Ph.D. Orlando E. Saa, Ph.D. 88, of Lyndhurst entered into eternal life on Saturday, May 11, 2013 at his home in the presence of his ...

(

NJ.com

)
---
Obituary: Sophie Alfonso
May 08, 2013
RUTHERFORD- Sophie Alfonso, 91, of Rutherford, formerly of Jersey City, passed away May 5, surrounded by her family. She was born in New York City to Johannes and Maria (nee Wiatr) Kurzeja in 1922. Sophie retired after 22 years of employment with Standard ...

(

NorthJersey.Com

)
---
Obituary: Frank Bemis, Jr., 86
May 09, 2013
Born in Schenectady, N.Y., Mr. Bemis lived in Queens before moving to Clifton 52 years ago. He was a systems analyst for Fiduciary Trust Co., New York City, before retiring in 1992. Also, he was a parishioner of St. Andrew R.C. Church, Clifton. He was a U ...

(

NorthJersey.Com

)
---
Obituary: Principia Nass, 91, passes away
May 07, 2013
Principia Nass, better known as "Dolly," 91, left this earth on May 2, 2013. She is survived by her devoted daughters, Elyse and Leslie; granddaughters, Jennifer, Lisa-Marie and Kristin; great-granddaughter, Dakota; son-in-laws, Kurt and David. She was ...

(

New Jersey Online

)
---
Obituary: Patricia E. Troianello, 57, of Dunellen
May 10, 2013
Patricia E. Troianello (nee Frost) of Dunellen passed away on May 10, 2013, at the age of 57. A memorial visitation will be held in Paul Ippolito Berkeley Memorial, 646 Springfield Ave., Berkeley Heights on Saturday, May 18, from 10 a.m. to noon with the ...

(

New Jersey Online

)
---
Willard Merrill "Bill" Siebelist, formerly of Caldwell
May 09, 2013
The Siebelists moved in 1979 from New Jersey to Nebraska, where they resided for over a 20-year span in Aurora, North Platte and Grand Island. In 1999, they moved to Sarasota, Fla., a location they had enjoyed as "snowbirds" prior to making ...

(

New Jersey Hills

)
---
David Kay Rubright, 93, of Peapack
May 06, 2013
He would have been 94 two days later, on Monday, May 6. Born in Mays Landing, he lived in southern New Jersey for many years before moving to Peapack 66 years ago. Mr. Rubright was a tool and die maker for many years at the Singer Company in ...

(

New Jersey Hills

)
---
Obituaries
May 02, 2013
Obituary courtesy of Oakland Memorial Home: Altana, Michael Vladimir, 14, of Oakland, New Jersey passed away unexpectedly but peacefully surrounded by his family and close friends on April 28, 2013. Michael is survived by his proud and adoring parents ...

(

Patch

)
---
Douglas W. Drummond, 66
May 10, 2013
He had been a resident of Northwest Tampa since 1997. He was born June 12th, 1946 in Princeton, New Jersey a loving son to Margaret and Robert Drummond. He is survived by his wife of 39 years, Karen Drummond, his daughter Megan Dean , son in law ...

(

Packet Online

)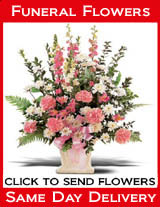 Featured Funeral Homes
---
75 Woodbridge Ave
Highland Park, New Jersey 08904
(732) 572-7474
---
66 Lacey Road
Whiting, New Jersey 08759
(732) 350-0003
---
633 Washington St
Hoboken, New Jersey 07030
(201) 659-1660
---
240 Shrewsbury Ave
Red Bank, New Jersey 07701
(732) 747-3124
---
71 Washington St
Morristown, New Jersey 07960
(973) 538-0520
Funeral Glossary