York, Nebraska Funeral Homes
Funeral flowers can be sent to any funeral home in York, Nebraska. Beautiful sympathy floral arrangements for the ones you love.



Send a beautiful arrangement for around $50
---
1015 N Lincoln Avenue
(402) 362-4444
---
109 S Lincoln Avenue
(402) 362-3351
---
Send Sympathy Flowers to any York, Nebraska Funeral Home.
---
---
Local Obituaries and News
---
Death, Sheri K. Ericksen, Lincoln resident, 57
February 28, 2014
She was preceded in death by her husband Glen Cox. A memorial service will be held on April 5 at Net Studios, 1800 North 33rd. Memorials may be directed to the Nebraska Chamber Players. No Visitation/Cremation. Condolences may be left online at ...

(

York News-Times

)
---
Obituary: Beverly J. York, 83
January 03, 2014
Beverly J. York, 83, of rural Thurman, formerly of Sidney and Hamburg, died Jan. 1, 2014 at The Nebraska Medical Center in Omaha. She was born on Dec. 8, 1930 in Randolph to Don and Frances (Skelton) Fichter. She graduated from Randolph High School in 1949.

(

The Nebraska City News Press

)
---
Obituary: Jack Sheedy, 91
February 18, 2014
former son-in-law Maury Yeston of New York City; nephew Bill McFerrin and niece Nancy Dana of Washington; and six step-grandchildren and eight step-great grandchildren in Nebraska. He was preceedd by former wife Betty Jean Sheedy in 2003.

(

journaldemocrat.com

)
---
Death, Helen Hultquist, Fremont resident, 85
February 28, 2014
Helen Naomi Hultquist, age 85, of Fremont, passed away Tuesday Feb. 18, 2014 at the University of Nebraska Medical Center ... Hultquist, on April 17, 1949, at Trinity Lutheran Church in Walthill. She lived and worked on the farm at Walthill ...

(

York News-Times

)
---
Obituary: York, Howard E.
February 19, 2012
Born December 31, 1920, in Blue Hills, Nebraska, Howard passed away February 14 ... Howard is survived by his wife, Mary Lou; son, Gene York of Moses Lake, WA; daughters, Beth VanAuken of Moses Lake, Linda York and Shelley York, both of Seattle, WA ...

(

The Spokesman-Review

)
---
Engelbart, Helen Grace (York)
April 10, 2011
Burial will be at Lincoln Memorial Park. In lieu of flowers, donations may be directed to The York Family Seminarian Burse at The Catholic Foundation of the Diocese of Lincoln, P.O. Box 80328, Lincoln, NE 68501-0328 in memory of Helen York Engelbart.

(

Lincoln Journal Star

)
---
Ne Win, Ex-Burmese Military Strongman, Dies at 81
December 05, 2002
But he remained intent on dominating his compatriots. As Tillman Durdin, a New York Times correspondent and expert on Asia, wrote in a 1966 book, "Southeast Asia," Mr. Ne Win was "a husky, hot-tempered, quick-witted martinet driven as much by a ...

(

New York Times

)
---
Eileen E. York, 88
April 24, 2013
York, 88, of Grand Island died Sunday ... Williams Flower Company of Grand Island, NE offers a wide variety of fresh flowers, silk arrangements or greenhouse fresh plants to enhance the look for any occasion. We are a family owned business that started ...

(

Grand Island Independent

)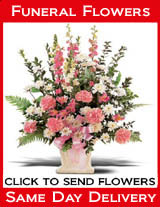 Funeral Homes
---
Funeral Glossary