Bella Vista, Arkansas Funeral Homes
Funeral flowers can be sent to any funeral home in Bella Vista, Arkansas. Beautiful sympathy floral arrangements for the ones you love.



Send a beautiful arrangement for around $50
---
2258 Forest Hills Blvd
Bella Vista
,
Arkansas
72714
(479) 855-1611
---
Send Sympathy Flowers to any Bella Vista, Arkansas Funeral Home.
---
---
Local Obituaries and News
---
James Arnold McHugh
September 16, 2013
James Arnold McHugh, 71, of Bella Vista, Arkansas died Thursday, September 12, 2013 at his home in Bella Vista. He was born on July 17, 1942 in Mattoon, Illinois to James William McHugh and Elizabeth Arnold McHugh. He was a teacher at North, Horace-Mann ...

(

legacy.com

)
---
EDWARD FRANCIS ZEGLER
June 06, 2013
Edward married Gertrude Krieger on September 26, 1959 in Chicago; they lived in Des Plaines for 29 years. He was an active community volunteer in Des Plaines and Gilberts. They moved to Bella Vista, Arkansas in 1999. He was on the Board of "Live on Stage ...

(

legacy.com

)
---
Funeral notice for Maurice Pederson
December 02, 2013
Maurice Pederson, age 82, of Bella Vista, AR, passed away on Saturday, November 23, 2013 at his home. He is survived by his wife, Doris; his son, Warren (Cindi); daughter, Kris (Madeline Gutwein); two granddaughters; and six great-grandchildren.

(

Chaska Herald

)
---
Sheldon 'Shelly' Bernard Matthees of Bella Vista, Ark.
November 13, 2012
Shelly was born Aug. 25, 1936, in St. Paul, Minn., the son of Bernard and Marie (Pogalz ... he worked as a lineman for Northwestern Bell, and he remained with "Ma Bell" for 30 years, eventually working as an engineer and a chemical dependency counselor.

(

southernminn.com

)
---
Obituaries for Benton County
November 16, 2009
Walnut St., Rogers, AR, 72758. Under the direction of Benton County Memorial Park Funeral Home of Rogers. SPRINGDALE — Charles Henry Reaves, 82, of Springdale passed away Sunday, Nov. 15, 2009, in his home. He was born Sept. 11, 1927, in Childress ...

(

nwaonline.com

)
---
Obituary: Carol (Romo) Valenta
June 09, 2010
Carol Elaine Valenta, 79, of Bella Vista, Arkansas, died Wednesday, May 26, 2010 at Ashley Health and Rehab in Rogers, Arkansas. She was born on June 18, 1930 in Granite Falls to Lawrence and Aileen (Ruud) Romo. She married Wallace Ralph Valenta ...

(

Granite Falls Advocate Tribune

)
---
Obituaries for Benton County
November 20, 2009
Bella Vista, Ark. In lieu of flowers, the family requests donations be made to one of the following: The American Cancer Society or the Garden Club of Rogers, 4036 Homewoods Drive, Rogers, AR 72756. On-line condolences may be made at www.funeralmation.com.

(

nwaonline.com

)
---
Joseph 'Joe' Ramaker — Belle Vista, Ark.
November 20, 2013
After moving to Bella Vista, Ark., in 1989, he continued to sell real estate ... and James "Jim" Ryanwho became like a second son and brother when he moved to the farm in Arkansas and eventually bought itfrom Joe. A celebration of Joe's life will be ...

(

Post-Bulletin

)
---
Death, Carl H. Knipfel, Bella Vista, Ark. resident, 93
June 25, 2012
Carl H. Knipfel, 93, of Bella Vista, Ark., formerly of Morton, Ill., passed away at 4:30 p.m. Saturday, June 23, 2012, at Circle of Life Hospice in Bentonville, Ark. He was born Dec. 5, 1918, in Beaver Crossing to John and Clara (Gaukel) Knipfel.

(

York News-Times

)
---
Mary Rademacher
June 23, 2013
RADEMACHER, MARY PATRICIA "PAT" Bella Vista, AR Mary Patricia Rademacher "Pat", 85, of Bella Vista, Arkansas, was called to her heavenly home on May 19, 2013. The funeral service was held at St. Bernard Catholic Church, in Bella Vista on May 22 ...

(

MLive.com

)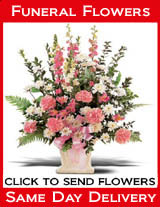 Funeral Homes
---
Funeral Glossary