Bella Vista, Arkansas Funeral Homes
Funeral flowers can be sent to any funeral home in Bella Vista, Arkansas. Beautiful sympathy floral arrangements for the ones you love.



Send a beautiful arrangement for around $50
---
2258 Forest Hills Blvd
Bella Vista
,
Arkansas
72714
(479) 855-1611
---
Send Sympathy Flowers to any Bella Vista, Arkansas Funeral Home.
---
---
Local Obituaries and News
---
Obituaries for Benton County
November 20, 2009
Mrs. Fields was born on July 9, 1917, near Rose Hill, Kan., to Johan Rudolph and Cuckoo Martha (Hodgin) Nelson. She worked for many years in accounting for Boeing and Beech Aircraft and ... Cremation arrangements are by Benton County Funeral Home in ...

(

nwaonline.com

)
---
Sheldon 'Shelly' Bernard Matthees of Bella Vista, Ark.
November 13, 2012
BELLA VISTA, Ark. — Sheldon "Shelly" Bernard Matthees, 76, of Bella Vista, Arkansas passed away peacefully while hunting in the woods near Leech Lake, Minn., on November 8, 2012. Shelly was born Aug. 25, 1936, in St. Paul, Minn., the son of Bernard ...

(

southernminn.com

)
---
Obituaries for Benton County
November 16, 2009
Memorial services will be Friday, Nov. 27, 2009, at 2 p.m. at the Benton County Memorial Park Mausoleum Chapel ... Gary Huntington of Huntsville and Michael Horine of Tennessee; two daughters, Marjorie Huntington of Rogers and Cheryl Crownover of Tennessee ...

(

nwaonline.com

)
---
Obituary: Carol (Romo) Valenta
June 09, 2010
Carol Elaine Valenta, 79 ... David Valenta of Ft. Lauderdale, Florida and James Valenta of Chisago City; two stepdaughters, Paula Anderson of Long Prairie and Diane Banks of Minneapolis; one sister Florice Pearson of Crystal and one brother, Larry ...

(

Granite Falls Advocate Tribune

)
---
Death, Carl H. Knipfel, Bella Vista, Ark. resident, 93
June 25, 2012
Ludwig Mortuary in Morton is handling arrangements. Memorials may be made to Bethel Lutheran Church, 425 N. Missouri Ave., Morton, IL 61550, Bella Vista Lutheran Church, 1990 Forest Hill Blvd., Bella Vista, AR 72715 or The Lutheran Hour.

(

York News-Times

)
---
Joseph 'Joe' Ramaker — Belle Vista, Ark.
November 20, 2013
After moving to Bella Vista, Ark., in 1989, he continued to sell real estate ... and James "Jim" Ryanwho became like a second son and brother when he moved to the farm in Arkansas and eventually bought itfrom Joe. A celebration of Joe's life will be ...

(

Post-Bulletin

)
---
Obituary: Lewis J. "Lew" Liss
April 22, 2013
Fond brother of Bernice Garrett. Lew retired in 1982 after serving the Chicago Police Department for 26 years then moved to Bella Vista, Arkansas. He served 4 years US Marshall Services in Fayetteville, 4 years as Chief of the Benton County Sheriff Office ...

(

buglenewspapers.com

)
---
Ronald Harry Barton
October 31, 2013
He worked for NAPA Auto Parts for numerous years in Arkansas. His parents and two sisters, Joyce Woods and Marilyn Moore, preceded him in death. He is survived by his wife, Janice Barton of Bella Vista, Ark.; two sons: Robert Barton of Bella Vista ...

(

Algona Upper Des Moines

)
---
ROBERT S. GUTHRIE - Lawrence County Record : Obituaries
November 14, 2012
He considered area plumbers and electricians not only as valuable customers but friends as well. Survivors include his wife, Linda Guthrie of Bella Vista. AR; son Jim Guthrie (Olivia) of Springfield, MO., daughter Ann Applebee (Rob) of Anchorage ...

(

lawrencecountyrecord.com

)
---
Mary Rademacher
June 23, 2013
RADEMACHER, MARY PATRICIA "PAT" Bella Vista, AR Mary Patricia Rademacher "Pat", 85, of Bella Vista, Arkansas, was called to her heavenly home on May 19, 2013. The funeral service was held at St. Bernard Catholic Church, in Bella Vista on May 22 ...

(

MLive.com

)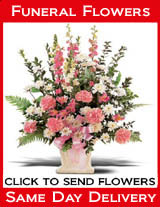 Funeral Homes
---
Funeral Glossary