Search Funeral Homes by Name
Century Funeral Homes
10 Funeral Homes found with "Century" in their name.
Funeral flowers can be sent to any funeral home. Beautiful sympathy floral arrangements for the ones you love.



Send a beautiful arrangement for around $50
---
Illinois
5838 W Division Street
(773) 436-0001
---
Send Funeral Flowers to any Illinois Funeral Home.
---
Mississippi
487 North Harvey Street
Greenville
,
Mississippi
38701
(662) 378-2283
---
101 Price Street
Crystal Springs
,
Mississippi
39059
(601) 892-3271
---
622 New Orleans Street
Hattiesburg
,
Mississippi
39401
(601) 583-1761
---
506 Ashton Ave
Clarksdale
,
Mississippi
38614
(662) 627-4182
---
801 Wathall Street
Greenwood
,
Mississippi
38930
(662) 453-2932
---
727 Webster Ave
Yazoo City
,
Mississippi
39194
(662) 746-1732
---
115 Yazoo Street
Lexington
,
Mississippi
39095
(662) 834-2617
---
1123 5th Avenue North
Columbus
,
Mississippi
39701
(662) 328-1730
---
| | |
| --- | --- |
| | Send Funeral Flowers to a Mississippi funeral home. Beautiful sympathy flowers for the ones you love. |
---
New York
954 Amsterdam Avenue
(212) 666-9630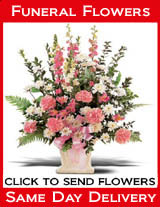 Funeral Homes
---
Funeral Glossary
Contact Us
Advertise With Us
Copyright &copy 2009 - 2013 - The-Funeral-Home-Directory.com