Cashmere, Washington Funeral Homes
Funeral flowers can be sent to any funeral home in Cashmere, Washington. Beautiful sympathy floral arrangements for the ones you love.



Send a beautiful arrangement for around $50
---
227 Cottage Ave
Cashmere
,
Washington
98815
(509) 782-2551
---
204 Cottage Ave
Cashmere
,
Washington
98815
(509) 470-6178
---
Send Sympathy Flowers to any Cashmere, Washington Funeral Home.
---
---
Local Obituaries and News
---
Obituary: Griffith, Lori Jean
August 19, 2012
Lori Griffith, 52, passed away Tuesday, August 14th at her Cashmere, WA home after a long and valiant four-year battle with cancer. Lori was born at Spokane's Sacred Heart Hospital to Milton and Charlene Sannes. Lori spent her childhood in Spokane ...

(

The Spokesman-Review

)
---
Obituary: Sorensen, Margaret "Peggy"
February 23, 2014
Born March 13th, 1928, Peggy grew up in the peaceful surroundings of Cashmere, WA. Peggy went on to graduate from Washington State College with a degree in police science. Soon after, she married James Sorensen and had two children. Working and raising her ...

(

The Spokesman-Review

)
---
Obituary: Harold Patton
July 31, 2013
Harold is survived by two daughters; Cheryl (Robert) Schack of Cashmere, Washington, Laurel (Mac) Stevenson of Aledo, Texas, four grandchildren; Eric (Claire) Schack of De Pere, Wisconsin, Darren (Katsuyo) Schack of Redmond, Washington, Tracy (David ...

(

hngnews.com

)
---
Robert Lamarr Carver
May 26, 2012
Robert Lamarr Carver,79, passed away Wednesday, May 23 2012 from a long and courageous battle with heart disease. He was born in Cashmere, WA to George and Alta Carver on November 30, 1932. He attended school in the Cashmere and Ephrata School Districts.

(

Columbia Basin Herald

)
---
Obituary: Emanuel 'Manny' Mandelkern, 91, WWII veteran
March 04, 2014
He graduated in 1948 with a bachelor of science in accounting, followed by a C.P.A. As an executive with Amicale Industries, a company that imported and processed cashmere and camel ... of Port Washington, N.Y.; grandson, Eric Mandelkern, of New York ...

(

lewisboroledger.com

)
---
Agnes Laura Lessenger Badgley
January 19, 2014
Her early childhood was lived at the Little Creek Ranger Station near Naches, Washington. She began school in Cashmere, Washington and in the 6th grade her family moved to Yakima, Washington. In 1938 she married Kenneth J. Badgley and they resided at ...

(

Yakima Herald Republic

)
---
Chris Wilson
February 24, 2014
Chris was the second of four children, born to Jack and Susie Wilson in Cashmere, WA, on August 10, 1950. Following the sudden and untimely death of his mother and younger brother in 1962, Chris' family joined with the Morrison family. At Cashmere High ...

(

Albany Herald

)
---
Robert V. Rieke, 90, Bellingham, Wash.
August 27, 2008
At age 13 he moved with his family to Cashmere, Wash. Bob graduated from Cashmere High ... professor of law at the University of Washington; and Dr. William Rieke, president of Pacific Lutheran University. In lieu of flowers, memorial gifts are encouraged ...

(

Lewiston Morning Tribune

)
---
Jane Belle Glover
February 10, 2013
YAKIMA - Jane Belle Glover, 85, passed away on Sunday. Dec. 16, 2012 at Cottage in the Meadow Hospice facility in Yakima, Washington. She was born May 2, 1927 in Cashmere, Washington to John Jackson Biggs and Nellie Biggs. Jane grew up in Cashmere ...

(

Yakima Herald Republic

)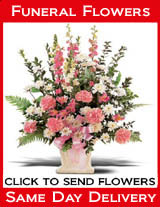 Funeral Homes
---
Funeral Glossary