Lamesa, Texas Funeral Homes
Funeral flowers can be sent to any funeral home in Lamesa, Texas. Beautiful sympathy floral arrangements for the ones you love.



Send a beautiful arrangement for around $50
---
403 N Austin Ave
(806) 872-8335
---
310 S Main Ave
(806) 872-8878
---
Send Sympathy Flowers to any Lamesa, Texas Funeral Home.
---
---
Local Obituaries and News
---
Kenneth Miers
April 03, 2014
Kenneth is preceded in death by his parents. The family suggests memorials to First Baptist Church, 801 S. 1st, St., Lamesa, TX 79331. To send condolences online, please visit www.branonfuneralhome.com.

(

Rress Reporter

)
---
Lula Mae Wilson
March 31, 2014
Spurlock and wife, Patsy, of Lovington, N.M., Vi Griffin and husband, Thomas, of Stowell, Texas, Cecil B. Wilson and wife, Louise, of Myrtle, Miss., and Mary Alice Stone of Knoxville, Tenn.; brothers, Wilson B. Banta of Lamesa and Charles ...

(

Rress Reporter

)
---
OBITUARY: Donald W. Goolsby
December 24, 2012
Interment: Holly Hills Memorial Park. Visitation: 6:00-8:00 PM, Wednesday, Wiley Funeral Home. Mr. Goolsby was born June 21, 1933 in Lamesa, Texas to Jeames Burl "Jim" Goolsby and Eunice May Jackson Goolsby. He attended Lamesa High School and married ...

(

Mineral Wells Index

)
---
Obituaries for the week of Sept. 28
September 27, 2007
Sherron was raised in Lamesa, and graduated from Lamesa High School in 1961. She continued her education at Texas Tech and received her bachelor's degree in design and fashion. While attending college she met Alan C. Meador II and the two married after ...

(

rockwallheraldbanner.com

)
---
Obituaries - Lubbock Online.comClarence Parker Sr.
January 05, 1998
He married Anna Irene Bolton on Sept. 19, 1924, in Paris, Texas. She died Feb. 10, 1994. He was a member of the Baptist church. He was a U.S. Army veteran of World War II. He moved to Ralls from Lamesa in 1949. A son, Clifford, died Sept. 16, 1991.

(

Lubbock Avalanche-Journal

)
---
Roger Etheredge
March 27, 2014
Roger Etheredge, 90, of Denton, passed away Monday, March 24, 2014. He was born March 6, 1924, in Lamesa, TX, to Sam and Ada Hall Etheredge. He was the third of five boys and six girls. He served in the U.S. Army during WWII and had retired from ...

(

Denton Record-Chronicle

)
---
Obituaries - Lubbock Online.comDean Hamilton
April 06, 1998
... Memorial Park in Lamesa under direction of Franklin-Bartley Funeral Home. Hamilton died Sunday, April 5, 1998, in Methodist Hospital. He was born in Brownfield. He graduated from Tahoka High School and attended West Texas State University. He married ...

(

Lubbock Avalanche-Journal

)
---
Elda B. Marruffo - Odessa American: Obituaries
March 08, 2008
ODESSA Elda B. Marruffo, 46 years of age, passed away March 7, 2008 at her residence in Odessa. She was born January 27, 1962, in Lamesa, Texas to parents David Barrientes Sr. and Beatrice Cervantes Barrientes. She was a homemaker and a Catholic.

(

Odessa American Online

)
---
Marcy Ree Wilkins
December 19, 2013
She is also survived by her grandchildren, Alan Archer of Ruidoso, NM, Brad Archer of Lubbock, TX, Michael Brownlow of Lamesa, TX, Melissa Dendy of Hobbs, Andrew Church, Ryan Church, and Matthew Church, all of Lompoc, California; fourteen great ...

(

Alpine Avalanche

)
---
Alicia Castillo
March 01, 2012
LAMESA Alicia Castillo, 55, of Gardendale, Texas, went home with our Lord and Savior on Monday, February 27, 2012. She was born on July 28, 1956 in Lamesa, Texas to Frank Castillo Sr. and Carmela Castillo. She was a member of Our Lady of Lourdes Catholic ...

(

Odessa American Online

)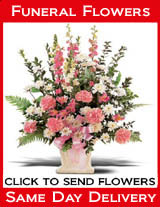 Funeral Homes
---
Funeral Glossary