Lamesa, Texas Funeral Homes
Funeral flowers can be sent to any funeral home in Lamesa, Texas. Beautiful sympathy floral arrangements for the ones you love.



Send a beautiful arrangement for around $50
---
403 N Austin Ave
(806) 872-8335
---
310 S Main Ave
(806) 872-8878
---
Send Sympathy Flowers to any Lamesa, Texas Funeral Home.
---
---
Local Obituaries and News
---
OBITUARY: Donald W. Goolsby
December 24, 2012
Interment: Holly Hills Memorial Park. Visitation: 6:00-8:00 PM, Wednesday, Wiley Funeral Home. Mr. Goolsby was born June 21, 1933 in Lamesa, Texas to Jeames Burl "Jim" Goolsby and Eunice May Jackson Goolsby. He attended Lamesa High School and married ...

(

Mineral Wells Index

)
---
Mildred E. 'Mims' Reid
February 15, 2014
Mims is survived by her husband, Paul Reid; sons, Gary and his wife, Judy, of Lamesa, Texas, Steve and his wife ... You may sign the on-line guestbook at www.missionparks.com under the obituary section.

(

pressreporter.com

)
---
Alicia Castillo
March 01, 2012
LAMESA Alicia Castillo, 55, of Gardendale, Texas, went home with our Lord and Savior on Monday, February 27, 2012. She was born on July 28, 1956 in Lamesa, Texas to Frank Castillo Sr. and Carmela Castillo. She was a member of Our Lady of Lourdes Catholic ...

(

Odessa American Online

)
---
William Dubb (Tommy) Thomas
October 12, 2012
daughter, Valarie Catania Mahmud of Raleigh, N. C.; grandchildren, Issac, Elizabeth, and Kamran; sister, Lajean Ann Thomas of Granbury, Texas; and nieces, nephews and several friends in the Lamesa and San Angelo areas. Dubb also kept in touch throughout ...

(

brownwoodtx.com

)
---
Ernestine Wood Smith
January 06, 2011
Born in Lamesa, Texas to Alberta and Ernest B. Wood on June 26, 1936, Ernestine was raised in Lamesa, Texas and graduated from Lamesa High School. She then earned her bachelor's degree in education with a minor in music from Texas Tech University.

(

Odessa American Online

)
---
Marcy Ree Wilkins
December 19, 2013
She is also survived by her grandchildren, Alan Archer of Ruidoso, NM, Brad Archer of Lubbock, TX, Michael Brownlow of Lamesa, TX, Melissa Dendy of Hobbs, Andrew Church, Ryan Church, and Matthew Church, all of Lompoc, California; fourteen great ...

(

Alpine Avalanche

)
---
Lewis Wayne Thomas Jr.
October 12, 2012
A special memorial service will be held at 11:11 a.m. Saturday, Oct. 20, 2012, in Lamesa Memorial Park in Lamesa, Texas, to say farewell to Lewis Wayne and his brother, William Dubb Thomas. In lieu of flowers, the family and friends of 'Sweet Pea ...

(

brownwoodtx.com

)
---
Richard Hughes Lane
November 24, 2013
Richard Hughes Lane, 89, of East Bernard, Texas, passed away Saturday, November 23, 2013. Richard was born June 28, 1924, in Lamesa, Texas. He grew up in Rosenberg, Texas, where his lifelong love of cars began while working with his father and brother al ...

(

Fort Bend Herald

)
---
A.J. (Jake) Broyles
June 06, 2012
A.J. (Jake) Broyles San Antonio, TX Graveside Services for Jake Broyles, 86, of San Antonio, formerly of Lamesa will be held on Tuesday June 5, 2012 at 10:00 a.m. at Lamesa Memorial Park with Lee Crouch and Matthew Thompson officiating. Arrangements are ...

(

fortstocktonpioneer.com

)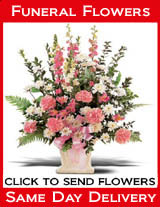 Funeral Homes
---
Funeral Glossary