Knox City, Texas Funeral Homes
Funeral flowers can be sent to any funeral home in Knox City, Texas. Beautiful sympathy floral arrangements for the ones you love.



Send a beautiful arrangement for around $50
---
210 Avenue A
(940) 658-3251
---
Send Sympathy Flowers to any Knox City, Texas Funeral Home.
---
---
Local Obituaries and News
---
Angela Dawn Hayes
March 30, 2014
Angie was the daughter of Karen Kigar Light of Bethel, MO and Paul Gardner of Overland Park, KS. She was born November 5 ... has been a housewife and worked for her mother, at her dog kennel. Angie enjoyed raising her three min pins, reading ...

(

Kirksville Daily Express

)
---
Obituary: Glenda Green Pogue
January 22, 2012
Glenda Green Pogue was born on Jan. 29, 1939, in Knox City, Texas, to Thomas Council and Christine Gertrude Carter Jr. and passed away on Jan. 21, 2012. In her early years, she was employed by the Wilemon Gin. She then owned and operated H&R Block in ...

(

waxahachietx.com

)
---
Alfretta Mae Knox
September 09, 2013
Alfretta Mae Knox, 84, of Ellwood City, passed away Saturday, September 7, 2013, at Trinity Oaks, PA, with her loving family at her side. Born February 17, 1929, in Clinton, PA, she was a daughter of the late Clarence and Hazel Rogers Fluharty. She ...

(

Ellwood City Ledger

)
---
Haney Elliot Knox
December 10, 2010
Haney Elliot Knox, age 96, passed away quietly at Alzcare on Friday, December 10. Elliot was born January 12, 1914 to Samuel Edward Knox and Annie Milligan Knox in Roby, Texas. He had three ... He was a New Braunfels city councilman from 1968 to 1972 ...

(

New Braunfels Herald-Zeitung

)
---
Robert Lee "Bobby" Knox
December 17, 2012
Knox and his wife Teresa of Minneola, Kan., his daughter Cheryl Hughes and her husband Chris of Jenks, his two sisters Doris Sims and her husband Roy of Ponca City and Charlotte Smith and her husband Gary of Portland, Texas, his brother in-law Kenneth ...

(

stwnewspress.com

)
---
Rev. C.M. Thompson Jr.
March 09, 2011
He was born Nov. 1, 1925, in Knox City, Texas, to C.M. Sr. and Eula Lee Walker Thompson ... You may sign guestbook, view photo and obituary at www.cpcleburne.com.

(

Cleburne Times-Review

)
---
Richard E. Maupin
March 12, 2014
Texas, with John Knox officiating. There is no visitation scheduled. Mr. Maupin passed away on Monday, March 10, 2014, at his home. He was born in Kansas City, Kan., the son of Mary (Hayes) and John R. Maupin. He married Velda Rosser on Oct. 12 ...

(

Cleburne Times-Review

)
---
Aurelia Knox Carman
February 19, 2014
TEMPLE — Aurelia Parkey Knox Carman ... the Havenbrook Funeral Home Chapel in Norman with interment following at 2 p.m. in Fairview Cemetery in Tuttle. Jack B. Smith, 85, of Duncan, passed away Thursday, March 27, 2014, in Oklahoma City.

(

Duncan Banner

)
---
Karen Beth 'K.B.' Guerry
September 28, 2010
Surviving family include son, Tex Cox and his wife Melesha of Knox City, Texas; daughter, Kasey Beth Cox of Austin ... by visiting her memorial and to continue reading the complete obituary at www

(

Odessa American Online

)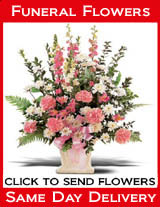 Funeral Homes
---
Funeral Glossary