Knox City, Texas Funeral Homes
Funeral flowers can be sent to any funeral home in Knox City, Texas. Beautiful sympathy floral arrangements for the ones you love.



Send a beautiful arrangement for around $50
---
210 Avenue A
(940) 658-3251
---
Send Sympathy Flowers to any Knox City, Texas Funeral Home.
---
---
Local Obituaries and News
---
FRANK KNOX HOUSHOLDER
April 27, 2013
Frank Knox Housholder died unexpectedly Monday ... Federal Reserve Bank and American Airlines, among others. He was married to Vickey Wiebe of Kansas City, Mo., and Christie Thornton of Springtown, Texas. Texas brought joyous memories of working on ...

(

legacy.com

)
---
Obituary: Glenda Green Pogue
January 22, 2012
Glenda Green Pogue was born on Jan. 29, 1939, in Knox City, Texas, to Thomas Council and Christine Gertrude Carter Jr. and passed away on Jan. 21, 2012. In her early years, she was employed by the Wilemon Gin. She then owned and operated H&R Block in ...

(

waxahachietx.com

)
---
MR. WALTER KNOX HARDEMAN
August 25, 2010
MR. WALTER KNOX HARDEMAN, of Missouri City, Texas, affectionately known as "K" and "Papaw", passed away peacefully in the early morning of Monday, July 19, 2010. He was 90 years old, born November 8, 1919 in Delia, Texas to Walter Reese Hardeman and Sally ...

(

legacy.com

)
---
Alfretta Mae Knox
September 09, 2013
Alfretta Mae Knox, 84, of Ellwood City, passed away Saturday ... Evelyn Sicklesmith, MI; Hazel Balding, TX and Esther Fisher, NV and numerous nieces and nephews. Friends will be received today from 2 to 4 and 6 to 8 p.m. in the NOLL FUNERAL HOME INC ...

(

Ellwood City Ledger

)
---
Daniel P. Knox
December 07, 2012
Daniel was born Feb. 22, 1930, in Taylor to Willella and Raymond Knox. He worked for Texas Power & Light for 38-and-one-half years. Following his retirement from Texas Power & Light, he worked for the Taylor City Cemetery for over 10 years and also for Ed ...

(

Taylor Daily Press

)
---
Robert Lee "Bobby" Knox
December 17, 2012
Knox and his wife Teresa of Minneola, Kan., his daughter Cheryl Hughes and her husband Chris of Jenks, his two sisters Doris Sims and her husband Roy of Ponca City and Charlotte Smith and her husband Gary of Portland, Texas, his brother in-law Kenneth ...

(

stwnewspress.com

)
---
Rev. C.M. Thompson Jr.
March 09, 2011
He was born Nov. 1, 1925, in Knox City, Texas, to C.M. Sr. and Eula Lee Walker Thompson ... You may sign guestbook, view photo and obituary at www.cpcleburne.com.

(

Cleburne Times-Review

)
---
Haney Elliot Knox
December 10, 2010
Haney Elliot Knox, age 96, passed away quietly at Alzcare on Friday, December 10. Elliot was born January 12, 1914 to Samuel Edward Knox and Annie Milligan Knox in Roby, Texas. He had three ... He was a New Braunfels city councilman from 1968 to 1972 ...

(

New Braunfels Herald-Zeitung

)
---
Helen Peacock
February 09, 2012
Born March 31, 1932, in Hunt County, Helen was the daughter of Ira Albert and Ruby Lee (Calahan) Samples. On Aug. 20, 1951, in Knox City, Texas, she married Bill Peacock, who preceded her in death. Helen was a homemaker. Survivors include her son ...

(

Greenville Herald-Banner

)
---
John Wootters Markham II
February 28, 2013
He also shared that love with his beloved, wife, Anna Fae Knox, also of Crockett ... Markham III and his wife, Judy, of Ore City, TX, Geoffrey K. Markham and his wife, Pamela, of Huntsville, TX, and Randall S. Markham and his wife, Nancy, of Deer Park ...

(

Huntsville Item

)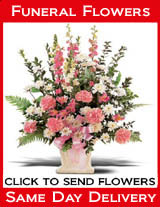 Funeral Homes
---
Funeral Glossary