Mason, Tennessee Funeral Homes
Funeral flowers can be sent to any funeral home in Mason, Tennessee. Beautiful sympathy floral arrangements for the ones you love.



Send a beautiful arrangement for around $50
---
78 Gin Street
(901) 294-2565
---
Send Sympathy Flowers to any Mason, Tennessee Funeral Home.
---
---
Local Obituaries and News
---
Memphis-area obituaries for Friday, April 11
April 10, 2014
Burial in Mason Cemetery, Somerville, TN. M.J. Edwards Funeral Home Airways, (901)327-9360 Dyan LUND TILLEY davis Beloved mother of Kellie (Meghan), sister, Kellie (Roger) Ollila, brothers Mitchell (Teresa), Daniel (Ginger) Webster, Ray (Niki), Scott (Kim ...

(

The Commercial Appeal

)
---
Kenneth Mason
February 09, 2012
Kenneth Dean Mason, 83, of Springfield, Tennessee died Tuesday, February 7, 2012. Mr. Mason was born on September 12, 1928 in Stratton, Neb. He lived in Chattanooga for many years and attended Brainerd Hills Baptist Church. He served as a corporal in the U ...

(

Times Free Press

)
---
Roy Mason
November 06, 2010
JASPER Roy Everett Mason, 63, passed away on Friday ... Nov. 8 from 12-8 p.m. CST at the funeral home.Arrangements are by Tate Funeral Home, Jasper, TN. 423.942.9500 www.tatefh.com.

(

Times Free Press

)
---
Pepper Mason obituary
February 12, 2013
Deborah "Pepper" Mason, 58, Dover, died Monday ... Memorials may be made to Helping Hands, c/o Marion Ray, 153 Winding Way Rd., Dover, TN 37058, or to The American Cancer Society.

(

Leaf Chronicle

)
---
Obituary: Carol Ann Mason
January 26, 2014
Carol Ann Mason passed away peacefully at her home in South Lake Tahoe ... She leaves behind her stepdaughter Cheri in Florida, her stepson Ron JR in Fallon, NV, and her stepson Randy of Tennessee. At her request there will be no memorial service.

(

Tahoe Daily Tribune

)
---
Obituary: Mason, Charles William
February 01, 2013
His wife, his remaining two children, Stephen Mason of Bellingham, WA and Terese Engstrom of Memphis, TN, along with some fifty-one grandchildren, spouses, and great-grandchildren will greatly miss his happy spirit and the ever present twinkle in his eye.

(

The Spokesman-Review

)
---
MASON, BETTY
December 17, 2013
MASON, Betty Talley, 82, passed away on Sunday ... For broader results, search by date or date-range.. NOTE: Archived obituaries are available on this site back to June 26, 2013. We are working to restore older notices, but In the meantime, you can ...

(

Times Dispatch

)
---
Lakondrel 'Congie' Remon Mason, 35, Gilbert, Ariz.
April 03, 2014
Evone Mason Emerson and stepfather, Mikel T. Emerson of Decatur; his father, Curtis E. Sirmones of Huntsville; and half brother, Curtis Sirmones Jr., of Tennessee. Flower bearers were cousins and friends. Honorary pallbearers were Austin High teammates and ...

(

Moulton Advertiser

)
---
Dula, Mason
January 31, 2014
Mason Eric Dula MARION Mason Eric Dula, 61, of Marion, died Wednesday, Jan. 29, 2014. Services for Mr. Dual will be conducted at 1 p.m. Tuesday, Feb. 4, at Mt. Moriah Baptist Church. Visitation will be one hour prior to the service at the church, from 12 ...

(

Morganton News Herald

)
---
Vergie Mason
June 06, 2012
Vergie Mason, age 81 years and 27 days ... She was born April 28, 1931 in No Business, Tennessee to Harve Slaven and Etta Kidd Slaven. She was a homemaker and member of Pleasant Rock Baptist Church. She volunteered at the "This and That" The Christian ...

(

McCreary County Record

)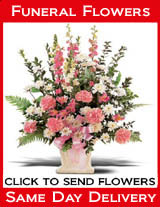 Funeral Homes
---
Funeral Glossary