Palmerton, Pennsylvania Funeral Homes
Funeral flowers can be sent to any funeral home in Palmerton, Pennsylvania. Beautiful sympathy floral arrangements for the ones you love.



Send a beautiful arrangement for around $50
---
525 Delaware Avenue
Palmerton
,
Pennsylvania
18071
(610) 826-2377
---
145 Delaware Avenue
Palmerton
,
Pennsylvania
18071
(610) 826-2270
---
Send Sympathy Flowers to any Palmerton, Pennsylvania Funeral Home.
---
---
Local Obituaries and News
---
Ruth M. Goepfert
March 19, 2014
88, of Hummelstown, passed away Saturday, March 15, 2014 surrounded by her loving family. Born in Palmerton, PA on December 23, 1925, she was the daughter of the late William R. and Myrtle J. Mooney. Ruth was a health & physical education teacher at ...

(

PennLive.com

)
---
OBITUARY Margaret Krum
March 02, 2014
Terri Krum Gibbs of Palmerton, PA, and Tim Krum of Union, OH; eleven great grandchildren and one great great grandchild. She was preceded in death by a son, Elwood (Jack) Krum. Calling hours will be Tuesday, March 4, from 11 a.m. to 1 p.m. at ...

(

News Eagle

)
---
Obituary: Dean G. Burnhauser, 49, of Stratford
January 14, 2014
Dean, a respiratory therapist for St. Vincent's Medical Center, was born in Palmerton, Pennsylvania to Dale Burnhauser of Pennsylvania, and the late Barbara Ann (Frye) Burnhauser. He was a graduate of Jim Thorpe High School and Norwalk Community College.

(

stratfordstar.com

)
---
Obituary Notice: Donald J. Bowden
March 11, 2014
6, 1969, he wed Joyce Ann Clark, who survives along with a daughter, Jennifer Marie Petrosky and her husband, Nathaniel of Palmerton. Also surviving are ... Curwensville, PA 16833. Online condolences may be made to the family at www.chidboyfuneralhome.com.

(

Gant Daily

)
---
Kalamazoo-area obituaries today: Antonia Brooks, 80, of Texas Township
December 09, 2013
Brooks was born in Palmerton, PA on May 10, 1933, the daughter of the late Frank and Victoria (Bednar) Vido. She graduated from Penn State University, where she met her husband, Carter Brooks, who survives. They were married on September 1, 1956 ...

(

MLive.com

)
---
Paid Obituaries
December 21, 2004
McWhite's Funeral Home, Ft. Lauderdale.* Barson Barson, Albert L., 82, of Boynton Beach, FL, formerly of Allentown, PA passed away on December 20, 2004. Born in Palmerton, PA, he was the former owner of Barson + Co., an apparel manufacturing firm located ...

(

SunSentinel

)
---
OSTERHOUT, DAVID
January 25, 2014
He was 74. David grew up in the zinc smelting town of Palmerton, PA, where, as a shifty point guard, he helped lead his high school basketball team to the Pennsylvania state championship game in 1956. David went on to graduate from Dartmouth College ...

(

Greensboro News & Record

)
---
Obituary: Gene Richard Arace, 59, of Pittstown
December 04, 2012
Timothy and his wife Sarajane of Lehighton, Pa.; Joshua and his fiancé Betty Waxter of Palmerton, Pa.; and Nicholas of Pittstown; two brothers, Ronald Arace and his late wife Donna of Asbury; and Michael "Mick" Arace and his wife, Wendy of Londonderry ...

(

New Jersey Online

)
---
Obituary: J. Barry Ewing, 66, of Franklin Twp.
January 16, 2013
Surviving are his wife of 44 years, Phyllis Kirk Ewing; two sons and daughters-in-law, J. Steven and Paula Ewing of Palmerton, Pa. and Michael and Colleen Ewing of Franklin Township; four grandchildren, Samuel, Rachel, John Benjamin and Theodore Ewing ...

(

New Jersey Online

)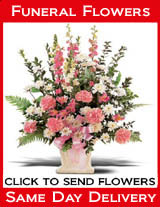 Funeral Homes
---
Funeral Glossary