Plymouth, Ohio Funeral Homes
Funeral flowers can be sent to any funeral home in Plymouth, Ohio. Beautiful sympathy floral arrangements for the ones you love.



Send a beautiful arrangement for around $50
---
35 Railroad Street
(419) 687-4431
---
Send Sympathy Flowers to any Plymouth, Ohio Funeral Home.
---
---
Local Obituaries and News
---
Robert H. Norton Sr.
March 25, 2014
In lieu of flowers, memorial contributions may be made in Robert's name to the Plymouth Volunteer Fire Department, 1001 Plymouth Road, Ashtabula, Ohio 44004. Obituary and condolences at www.ducro.com and starbeacon.com.

(

Ashtabula Star-Beacon

)
---
A.A. "Mickey" Budan led Euclid Chrysler-Plymouth: news obituary
December 02, 2011
Adolph Albert "Mickey" Budan captained the Holy Name hockey team and owned Euclid Chrysler-Plymouth on Euclid Ave ... who used to represent Euclid in the Ohio House, said, "He was bold. He was a positive thinker. People trusted him and believed in him."

(

Cleveland Plain Dealer

)
---
Obituary: Rosemary T. Downing
February 09, 2008
PLYMOUTH - Rosemary T. Downing, 84, formerly of Plymouth, IN, and a longtime resident of Maumee, OH, passed away Sunday, January 27, 2008, in Hospice of Northwest Ohio, Toledo, surrounded by her loving family. She was born February 15, 1923, in Plymouth ...

(

articles.southbendtribune.com

)
---
Obituary: Sun Post-Herald
December 13, 2011
Born in Norwalk, he lived in North Ridgeville for the past 16 years and previously lived in Plymouth and Greenwich, Ohio. Mr. Farner was a self-employed truck driver. He was a member of St. Peter Catholic Church, North Ridgeville and Knights of Columbus ...

(

Cleveland Plain Dealer

)
---
Obituary: Ava Dale Johnson taught English to Hmong refugees.
March 26, 2014
From 1959 to 1964, the couple taught on the Navajo Indian Reservation in Arizona, then relocated to St. Paul where Charles took a job teaching French at Macalester College and Ava Dale a youth education position at Macalester Plymouth United ...

(

Minneapolis Star Tribune

)
---
Steven Carter
July 19, 2012
NEW PLYMOUTH — Steven Ray Carter, 60, of New Plymouth, Ohio, passed away July 18, 2012, at Hocking Valley Community Hospital in Logan, Ohio, holding the hand of his beloved wife, Linda. Steve was born May 7, 1952, in Logan to Hollis W. "Stub" and Nora M.

(

athensohiotoday.com

)
---
Mae Ellen Cherry
September 23, 2012
NEW PLYMOUTH — Mae Ellen Wollett Cherry, 81, of New Plymouth, Ohio, passed away Sept. 23, 2012, at Arcadia Acres in Ilesboro, Ohio. Mae Ellen was born Aug. 17, 1931, in Athens County to Homer and Evelyn Ward Wollett. A longtime bus driver, she worked for ...

(

athensohiotoday.com

)
---
Glenn L. Peters, 86, McArthur
May 21, 2013
Glenn L. Peters, 86, McArthur, passed away Monday, May 20, 2013 at Huston Nursing Home in Hamden. He was born March 23, 1927 in New Plymouth, Ohio, son of the late Walter and Mahala Aplin Peters. Glenn was married for 64 years to the late Ruth M.

(

vintondaily.com

)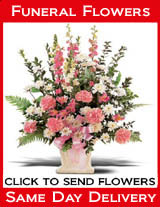 Funeral Homes
---
Funeral Glossary