Plymouth, Ohio Funeral Homes
Funeral flowers can be sent to any funeral home in Plymouth, Ohio. Beautiful sympathy floral arrangements for the ones you love.



Send a beautiful arrangement for around $50
---
35 Railroad Street
(419) 687-4431
---
Send Sympathy Flowers to any Plymouth, Ohio Funeral Home.
---
---
Local Obituaries and News
---
A.A. "Mickey" Budan led Euclid Chrysler-Plymouth: news obituary
December 02, 2011
Adolph Albert "Mickey" Budan captained the Holy Name hockey team and owned Euclid Chrysler-Plymouth on Euclid Ave ... who used to represent Euclid in the Ohio House, said, "He was bold. He was a positive thinker. People trusted him and believed in him."

(

Cleveland Plain Dealer

)
---
Kenneth Bowers Sr. - The Athens Messenger: Obituaries
December 23, 2013
NEW PLYMOUTH — Kenneth Aurthur Bowers Sr., 67, of New Plymouth, Ohio passed away Dec. 21, 2013. Kenneth was born June 16, 1946 in Columbus. He is a graduate of Ames-Bern High School; he formerly worked at The Ohio Stater Inn in Columbus; an avid ...

(

athensohiotoday.com

)
---
Kenneth Bowers Sr.
December 27, 2013
NEW PLYMOUTH — Kenneth Aurthur Bowers Sr., 67, of New Plymouth, Ohio passed away Dec. 21, 2013. Kenneth was born June 16, 1946 in Columbus. He is a graduate of Ames-Bern High School; he formerly worked at The Ohio Stater Inn in Columbus; an avid ...

(

athensohiotoday.com

)
---
Obituary: Rosemary T. Downing
February 09, 2008
PLYMOUTH - Rosemary T. Downing, 84, formerly of Plymouth, IN, and a longtime resident of Maumee, OH, passed away Sunday, January 27, 2008, in Hospice of Northwest Ohio, Toledo, surrounded by her loving family. She was born February 15, 1923, in Plymouth ...

(

articles.southbendtribune.com

)
---
Steven Carter
July 18, 2012
NEW PLYMOUTH — Steven Ray Carter, 60, of New Plymouth, Ohio, passed away July 18, 2012, at Hocking Valley Community Hospital, Logan, Ohio, holding the hand of his beloved wife, Linda. Steve was born May 7, 1952, in Logan to Hollis W. "Stub" and Nora M.

(

Logan Daily News

)
---
Robert M. Emmett
January 19, 2013
Bob was a sixty year member of Plymouth Grange ... 1166 Lake Ave., Ashtabula, Ohio 44004. DUCRO FUNERAL SERVICES AND CREMATORY, 4524 Elm Ave., Ashtabula is in charge of arrangements. Obituary at www.ducro.com and starbeacon.com.

(

Ashtabula Star-Beacon

)
---
Glenn L. Peters, 86, McArthur
May 21, 2013
Glenn L. Peters, 86, McArthur, passed away Monday, May 20, 2013 at Huston Nursing Home in Hamden. He was born March 23, 1927 in New Plymouth, Ohio, son of the late Walter and Mahala Aplin Peters. Glenn was married for 64 years to the late Ruth M.

(

vintondaily.com

)
---
Herbert G. Locy II
October 06, 2013
Locy II, age 79, of Ninety Road, Plymouth Township, died Thursday, Oct. 3, 2013, at his home. He was born Nov. 14, 1933, in Jefferson, Ohio, the son of Demos Braden ... Guest book and obituary at fleming-billman.com and starbeacon.com.

(

Ashtabula Star-Beacon

)
---
Obituary: Sun Post-Herald
December 13, 2011
Survivors include his wife of 20 years, Paula; daughters, Kathryn Gillespie of Florida, Stephanie Farner of North Ridgeville; sons, Edward (Courtney) of Mansfield and Timothy of North Ridgeville; granddaughters, Elizabeth and Lillian Farner of North ...

(

Cleveland Plain Dealer

)
---
Obituary: Eleanor Ritzinger, 76
April 25, 2010
She was a graduate of Rhode Island College where she received her bachelor's degree ... Mott and her husband Jim of Manville, RI, Kirsten Getler and her husband Tom of Canton, CT, Heidi Tallmadge and her husband Lyle of Mystic, CT, Susan Southwood ...

(

Abington Mariner

)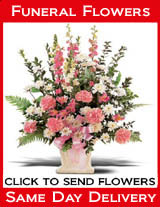 Funeral Homes
---
Funeral Glossary