Cortland, Ohio Funeral Homes
Funeral flowers can be sent to any funeral home in Cortland, Ohio. Beautiful sympathy floral arrangements for the ones you love.



Send a beautiful arrangement for around $50
---
164 North High Street
(330) 637-4986
---
Send Sympathy Flowers to any Cortland, Ohio Funeral Home.
---
---
Local Obituaries and News
---
LINDA Y. KINDER [Cortland, Ohio]
August 15, 2013
CORTLAND, Ohio — Linda Y. Kinder, 71, of Cortland, Ohio, passed away Tuesday, Aug. 13, 2013 at St. Joseph Health Center. She was born July 12, 1942 in Keyser, W.Va., a daughter of the late Robert and Elsie High Smith. She was a laborer with Johnson ...

(

Cumberland Times-News

)
---
GOLDIE M. KLAMUT
January 11, 2014
153 Grove St., Cortland, OH 44410. Please visit www.ShaferWinans.com to view this obituary or to leave condolences to the family. NOTE: Your message will need to approved by our staff before it will appear. You will not see it right away.

(

Vindy.com

)
---
OBITUARY: Clara Tailon
August 14, 2009
Kathy Harrison of Milford, Mich.; Scott Law of New Canaan, Conn.; Rick Law of Cortland, Ohio; and Rob Law of Medina, Ohio. Great-grandchildren are Kellie Stigge of Pasco, Wash; Craig Pope, Allison Rust and John Andrew Law of Moscow, Idaho; Ryan Pope of ...

(

Moscow-Pullman Daily News

)
---
Donald L. Tomlinson Sr.
September 04, 2009
46, Cortland, Ohio 44410 or to University Hospitals Department of Institutional Development, P.O Box 74947, Cleveland, Ohio 44101-9927. Obituary and condolences at www.shaferwinanschapel.com and starbeacon.com.

(

Ashtabula Star-Beacon

)
---
William A. Andrei
March 26, 2014
Meridian Street, Ravenna, OH. A Graveside service will be held at 11:00 AM Friday, March 28, 2014 in Grandview Memorial Park with Rev. William Snyder officiating. A special thank you to nurse Meg for her compassionate care. Condolences and ...

(

Record Courier

)
---
Lucille B. Antonini 1930-2014
March 22, 2014
(Mark) Fabian of Howland; brother, Charles Matasic of West Chester, Pa.; grandchildren, Joseph and Jeffrey Dietz ... to the care of the Staton-Borowski Funeral Home, 962 North Road N.E., Warren, OH 44483, 330-394-6200. This obituary may be viewed and ...

(

Trib Today

)
---
JOHN B. 'JACK' SZWEDKO
January 03, 2012
Cortland, OH 44410 or Animal Welfare League, 545 Brunstetter Road SW, Warren, OH 44481 Family and friends may visit www.shaferwinanschapel.com to view this obituary and send condolences. "I was very sorry to hear of Jack's death. I too have a son named ...

(

Vindy.com

)
---
Eugene L. Wagner
April 19, 2013
Eileen Fetz of Minnesota, Roger Krieg and Martha Burger, both of Warren, Ohio, and Diane Longstreph of Cortland, Ohio ... Arrangements by PAINE-GUERRIERO FUNERAL HOME, Orwell, Ohio. Obituary and condolences at starbeacon.com.

(

Ashtabula Star-Beacon

)
---
Dorothy A. Lesnoski
March 05, 2014
Cortland, OH 44410. Arrangements handled by the Peter Rossi & Son Memorial Chapel, 1884 North Road N.E., Warren, OH 44483. Family and friends may visit www.peterrossiandsonfh.com to view this obituary, sign the guestbook and send condolences to the ...

(

Warren Tribune Chronicle

)
---
Nelson E. Barnard
February 25, 2014
Nelson E. Barnard, 90, of Cortland, Ohio, passed away Sunday, Feb. 23, 2014, at his home. He was born Nov. 23, 1923, in Wooster, Ohio, the son of the late John Wesley and Ruth Idina Repp Barnard. He was employed with Packard Electric as an inspector ...

(

The Review alliance

)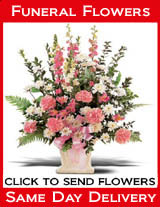 Funeral Homes
---
Funeral Glossary