Portageville, Missouri Funeral Homes
Funeral flowers can be sent to any funeral home in Portageville, Missouri. Beautiful sympathy floral arrangements for the ones you love.



Send a beautiful arrangement for around $50
---
209 W Main St
Portageville
,
Missouri
63873
(573) 379-5486
---
Send Sympathy Flowers to any Portageville, Missouri Funeral Home.
---
---
Local Obituaries and News
---
Iva Lee Church
May 05, 2012
Iva Church, 87, of Portageville, Mo. died Friday in Pemiscot Memorial Hospital. Survivors: two sons, six daughters, 17 grandchildren, 27 great-grandchildren, and several great-great-grandchildren. Funeral services are Monday at Jackson's ...

(

Arkansas Online

)
---
Sandra Gayle Mudd
March 04, 2013
Sandra Gayle Mudd, 59, of Portageville, Mo. died Tuesday, Feb. 26, 2013 at her home. Survivors include her mother, Inelle Milton Mobley of Owensboro; her husband, Rickey Mudd of Portageville, Mo.; a son, Mark Richard Mudd of Springfield, Mo.;

(

legacy.com

)
---
Obituary | Sr. Nora Eftink, CSJ
November 13, 2012
Sister Nora, 83, died Oct. 22 at Nazareth Living Center of congestive heart failure. Born in Portageville, Mo., she was raised on a farm, worked at a hardware store for a while and in 1950 at age 20 entered the Sisters of St. Joseph of Carondelet.

(

stlouisreview.com

)
---
Billy Dean Allison Sr.
April 22, 2013
Billy Dean Allison Sr., age 74 of Portage, formerly of Portageville, MO, passed away April 22, 2013 at the VNA Hospice Center in Valparaiso, IN. He was born on January 7, 1939 in Portageville, MO to James and Lois (Dooley) Allison who preceded him in death.

(

legacy.com

)
---
Obituary | Sr. Mary Julita Lienhard, RSM
August 07, 2012
Sister Julita taught elementary students in Humboldt, Kan., and Portageville, Mo. She was obstetrics supervisor at St. Elizabeth's Hospital in Hutchinson, Kan; administrator at St. John's School of Nursing in St. Louis; and director of Mercy School of ...

(

stlouisreview.com

)
---
Betty Jo Carver
May 11, 2011
She was born August 8, 1932, in Portageville, Mo., the daughter of Jack and Violet (Hawkins) Rone. She married Clyde Carver on August 23, 1964, in Portageville, Mo. He preceded her in death on August 11, 2008. Betty was employed at Riverview Nursing Home ...

(

Fulton Sun

)
---
Modene Shumate
July 01, 2013
MARION, Ark. -- Modene Wallace Shumate, 84, formerly of Portageville, Mo., died June 28, 2013, at Willowbend Nursing Center in Marion. For the complete Standard Democrat obituary log in to our electronic edition.

(

standard-democrat.com

)
---
Aubrey A. McBride
September 25, 2013
Mr. McBride was born March 30, 1929 in Portageville, Missouri, the son of the late Aughtie Lee and ... Online tributes may be shared on the obituary page of

(

MLive.com

)
---
Obituary: Rutha Nell McFerren
October 24, 2007
SOUTH BEND - On March 1, 1933, in Portageville, MO, a daughter was born to Willie H. and Anner (Quinn) Stanford Sr. She was named Rutha Nell. She was saved at the early age of 16 in Lilbourn, MO, under the leadership of Pastor C.E. Edmond. In Lilbourn ...

(

articles.southbendtribune.com

)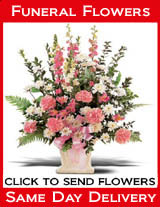 Funeral Homes
---
Funeral Glossary