Milo, Maine Funeral Homes
Funeral flowers can be sent to any funeral home in Milo, Maine. Beautiful sympathy floral arrangements for the ones you love.



Send a beautiful arrangement for around $50
---
---
Send Sympathy Flowers to any Milo, Maine Funeral Home.
---
---
Local Obituaries and News
---
Tracy Lyn Kasprzak
March 26, 2014
She was a graduate of Eastern Maine Community College receiving her Registered Nursing ... and their son, Julian, of Milo; her son, Alexander Kasprzak and his son, Landon, of Bangor, and her son, Joshua Kasprzak and his fiancé, Michelle ...

(

Bangor Daily News

)
---
Thomas Belleau
March 28, 2014
Milo Belleau, Alex Belleau, Katie Owen, and Tommy Owen; and many nieces and nephews. Many thanks to The Maine Veterans' Home of Bangor for their care and attention to Tom during his years there. He was a man who preferred solitude, but he ...

(

Bangor Daily News

)
---
SPC. WILLIAM C. KOELSCH III, 23, of Milo, Maine, with relatives in OCEAN AND MONMOUTH COUNTIES
April 22, 2008
KOELSCH III, 23, of Milo, Maine, with relatives in OCEAN ... and family in Ocean and Monmouth counties. Friends are invited to the visitation from 6 to 8 p.m. today at Lary Funeral Home, Milo, where funeral services will be conducted 11 a.m. Thursday ...

(

Asbury Park Press

)
---
Obituary: Eleanor "Pat" McKeen Brosius
April 28, 2008
For 18 years Mrs. Brosius was a docent at the Boyhood Home of Robert E. Lee. She was born in Milo, Maine Oct. 5, 1910, the daughter of James O. and Luvie Hackett McKeen. She was a graduate of Milo High School where she was a charter member of the National ...

(

Virginia Connection Newspapers

)
---
Local Obituaries
May 03, 2004
Donations may be made to the Hockanum Valley Community Council, 155 W. Main St., Vernon, CT 06066. Jean F. Leonard Buttery, formerly of Milo, Maine, and Suffield, died Friday at Parkway Pavilion in Enfield. She was 82. She was born in Patten, Maine ...

(

Hartford Courant

)
---
Pullen, Dean
February 04, 2014
Dean was raised in Culver City, CA. and attended Culver City Schools. She married David J. Pullen, of Milo, Maine December 21, 1969. She was a member of Jobs Daughters, the Order of Rainbow for Girls and the Order of the Eastern Star (OES) in Culver City.

(

Bryan College Station Eagle

)
---
David Ford II Obituary
January 22, 2013
He attended Deerfield Academy ... Fitchburg, Massachusetts, 01420, or The Hartland Nature Club, PO Box 349, Hartland, 05048. Arrangements are under the direction of the Cabot Funeral Home in Woodstock. This obituary first appeared in the January 24 ...

(

thevermontstandard.com

)
---
Earl Rodney Lovejoy Jr.
August 02, 2005
He was 51. A private family service will be held at the family camp in Brownville, Maine. Mr. Lovejoy was born Dec. 25, 1953, in Milo, Maine, where he was raised and graduated from the Dover-Foxcroft Academy in Dover, Maine. He served in the U.S. Army ...

(

Kenai Peninsula Clarion

)
---
Harmon, Albert
September 08, 2013
Born May 17, 1920, in Milo, Maine, he was the son of the late Pliny and Helen Dickerson ... An online register is available under "obituaries," at www. westmorelandfuneral home.com.

(

McDowell News

)
---
Obituaries for May 5
May 03, 2004
Survivors include her mother, Rebecca Yellow Hair, Batesland; two daughters, Kimberly Tarrant and Kristen Tarrant, both of Batesland; six brothers, Milo Yellow Hair ... Mike Dulany, Richmond, Maine, and Joseph Fanna, Italy; and three grandchildren.

(

Rapid City Journal

)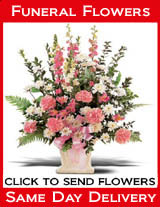 Funeral Homes
---
Funeral Glossary