Pearl River, Louisiana Funeral Homes
Funeral flowers can be sent to any funeral home in Pearl River, Louisiana. Beautiful sympathy floral arrangements for the ones you love.



Send a beautiful arrangement for around $50
---
67525 Highway 41
Pearl River
,
Louisiana
70452
(985) 863-5733
---
Send Sympathy Flowers to any Pearl River, Louisiana Funeral Home.
---
---
Local Obituaries and News
---
Donna McGee Blanchard
October 14, 2013
Donna McGee Blanchard passed away on Tuesday, October 15, 2013 at her residence in Pearl River, Louisiana. She is survived by the love of her life Floyd G. Blanchard, two sons, Floyd (Toby) Blanchard and Benjamin Blanchard and a daughter Martha (Becky ...

(

legacy.com

)
---
Nedra Brown Bing
September 04, 2013
On Thursday September 5, 2013, Nedra Brown Bing, 69, of Pearl River, LA passed away. She was a Deputy with the Orleans Parish Sheriff's Department under Sheriff Foti for many years. She was preceded in death by her parents, Jeff and Irma Brown, who were of ...

(

legacy.com

)
---
David Edwin Moyle
May 20, 2013
MOYLE David Edwin Moyle of Pearl River, LA, passed into Heaven on Saturday, May 18, 2013, while surrounded by family at Louisiana Heart Hospital in Lacombe, LA. He was born on May 20, 1942, and passed away just prior to his 71st birthday. Dave was preceded ...

(

nola.com

)
---
HENRY PARVIN ROSIER Jr.
April 27, 2013
ROSIER HENRY PARVIN ROSIER, JR., of Pearl River, LA, born January 17, 1949 in Bossier City, LA, has lived in Pearl River for the last 31 years, passed away on April 25, 2013 after a long hard fought battle with cancer. Beloved son of Benjamin F.

(

nola.com

)
---
Pearl Shankey
December 18, 2012
BLACK RIVER FALLS — Pearl Evelyn Shankey, 87, of Black River Falls went home with her Savior on Friday, Dec. 14, 2012, at St. Joseph's Hospital in Marshfield. She was born Dec. 21, 1924, in Roslyn, S.D., the daughter of Chris and Inga (Nyvold ...

(

La Crosse Tribune

)
---
Adam Wayne Pellegrin
October 11, 2013
PEARL RIVER, La. — Adam Wayne Pellegrin, 28, of Pearl River, La. on Tuesday, October 8, 2013. Father of Lena Danielle Pellegrin. Beloved son of Bradley Pellegrin and Susan Mabry (Reuben). Grandson of Geraldine Pellegrin and Souna Kaake. Brother of Jeremy ...

(

Picayune Item

)
---
Raycille Lottie Mitchell
July 11, 2012
Mitchell; a son, Richard J. Mitchell ... Born February 3, 1928 in Muscogee, Okla., to Cherokee Father, Abb Joseph Buffalo and English Mother, Hettie Lou Wyatt. Mr. Buffalo served four years during WWII in the Army Air Corps as a heavy equipment operator.

(

Picayune Item

)
---
Gregory Elvin Craddock
October 21, 2008
Louisiana; one son, Gregory Craddock (Lynn), Pearl River, Louisiana; one step-son, Pete Greer, Memphis; one sister, Valerie Knight, Pearl River, Louisiana; two brothers, Marty Craddock, Picayune, Norman Craddock, Pearl River; six grandchildren.

(

DeSoto Times Today

)
---
Milton Craddock, served nearly 20 years on St. Tammany Parish School Board -- Obituaries today
October 15, 2011
Mr. Milton was instrumental in the creation of Pearl River High School. He enjoyed hunting and fishing and the small town life of Pearl River, La.

(

NOLA Local News

)
---
Talia J. Nunley Nores
November 06, 2012
04-19-12 — Talia J. Nunley Nores, 33, passed away November 1, 2012, in Pearl River, La. Talia, formerly of Morehead, is survived by a son, Ayden Nores of Pearl River; a daughter, Destiny Hampton of Morehead; mother, Gail Nunley of Morehead; and brother ...

(

Morehead News

)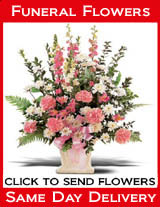 Funeral Homes
---
Funeral Glossary