Whitewater, Kansas Funeral Homes
Funeral flowers can be sent to any funeral home in Whitewater, Kansas. Beautiful sympathy floral arrangements for the ones you love.



Send a beautiful arrangement for around $50
---
216 South Main Street
(316) 799-2000
---
120 South Main
(316) 799-2111
---
Send Sympathy Flowers to any Whitewater, Kansas Funeral Home.
---
---
Local Obituaries and News
---
Obituary: Elsie E. Claassen
March 20, 2012
Interment will precede the service at 10 a.m. on Friday, at Emmaus Mennonite Cemetery. Memorial funds established for Wheat State Manor or LifeWind MAI in care of Lamb Funeral Home, 120 South Main, Whitewater, KS 67154.

(

Newton Kansan

)
---
Obituary: Wanda M. Regier
April 13, 2011
Wanda Martha Regier, 94, passed away April 11, 2011, at Kansas Christian Home, Newton. She was born January 7, 1917, near Whitewater, the daughter of John E. and Margaretha (Penner) Regier. She graduated from Whitewater High School. She attended ...

(

Newton Kansan

)
---
Arlene F. Balzer obituary
August 23, 2010
She worked 10 years for Kansas Children's Service League (KCSL ... Schmidt of Walton. Tim (Lisa) Schmidt of Whitewater, David (Kris) Balzer of Inman, and Paul (Janet) Balzer of South Dakota; 13 grandchildren; three great-grandchildren; and numerous ...

(

McPherson Sentinel

)
---
Winson C. 'Dutch' Blankenship, 87, Whitewater
June 03, 2013
He was born on Aug. 4, 1925, in Camden County, Missouri. He served in the United States Navy during ... He will be fondly remembered by his stepgranddaughters, Heather (Justin), Holly (Kevin), Kellie and their children. Visitation will be at the Nitardy ...

(

Daily Jefferson County Union

)
---
Larry L. Root Sr.
March 14, 2014
Larry L. Root, Sr., 76, passed away on March 15, 2014, at Hospice House, Hutchinson. He was born May 1, 1937, in Whitewater, Kansas, the son of Clarence Leo and Birdene Willeta (Edwards) Root. Larry served in United States Navy during the Korean War.

(

Hutchinson News

)
---
Doris Merle Day
September 08, 2013
Doris Merle Day, 98, of Council Grove, Kansas, passed away Thursday ... Mindy and Luke Amend, of Whitewater, Lisa and Ben Jarvis, of Council Grove, Sondra and Derek Sparks, of Tonganoxie and Pete and Nikki Day, of Council Grove; 10 great-grandchildren ...

(

Emporia gazette.com

)
---
Obituary: Marilyn Scharine
July 10, 2002
She was born the only child of Harold and Mamie Hunt in the spare room of a retirement home in Whitewater, Wisconsin ... she received a M.A. in Speech and Theatre at the University of Kansas and a certificate of achievement from the University of Vienna ...

(

Deseret News

)
---
Eldon E. 'Gene' Beye
March 24, 2014
As a young boy, he attended Whitewater Grade School and was a 1977 graduate of ... and most recently Individual Mausoleum Co. in Parsons for 10 years. He was an avid Kansas City Chiefs fan and enjoyed watching NASCAR and playing golf.

(

Parsons Sun

)
---
Mary Eck
May 15, 2013
at Wheat State Manor of Whitewater, Kan. She was born Sept. 27, 1920, daughter of David B. and Susie (Richert) Eck. She worked for Blue Valley Federal Savings of Kansas City until her retirement in 1990. She was preceded in death by six siblings.

(

Hutchinson News

)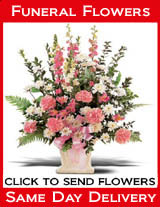 Funeral Homes
---
Funeral Glossary