Lafayette, Indiana Funeral Homes
Funeral flowers can be sent to any funeral home in Lafayette, Indiana. Beautiful sympathy floral arrangements for the ones you love.



Send a beautiful arrangement for around $50
---
914 Columbia Street
(765) 742-1117
---
1104 Columbia Street
(765) 742-7873
---
822 North 9th Street
(765) 742-7302
---
| | |
| --- | --- |
| | Send Funeral Flowers to a Lafayette, Indiana funeral home. Beautiful sympathy flowers for the ones you love. |
---
400 Twyckenham Blvd
(765) 474-1111
---
Send Sympathy Flowers to any Lafayette, Indiana Funeral Home.
---
---
Local Obituaries and News
---
Joseph Paul Radvansky Sr., 84
March 31, 2014
84, Batesville, died Thursday, March 27, 2014, at the Indiana Veterans' Home, West Lafayette. He was born July 25 ... Solid Waste District board member and past 50-year Hillcrest Country Club member was one of the Immaculate Conception Academy athletic ...

(

Herald Tribune

)
---
Mary Margaret Whitlock
March 29, 2014
Mary was a secretary in the science department for 22 years at Indiana State University. Survivors include her two sons, Gerry Hankins and his wife Mary Ellen of Terre Haute and Richard Hankins and his wife Chris of Lafayette, IN; two grandchildren ...

(

Tribune-Star

)
---
Carolyn Mae Lofland Chaney
March 27, 2014
She was born May 30, 1951, in Culver Union Hospital, Crawfordsville, the daughter of John B. and Lela M. (Clark) Lofland. Carolyn attended Mt. Zion Elementary School and graduated from Crawfordsville High School in 1969. She graduated from ...

(

Journal Review Online

)
---
Pending obituaries for Wednesday
May 07, 2012
Michael R. Raisor Jr., 44, of Lafayette, died Tuesday, May 8, 2012. Service 10:30 a.m. Friday at Central Presbyterian Church. MONTICELLO - Deborah Lynn Hanaway, 59, of Monticello, died Sunday, May 6, 2012, at Indiana University Arnett Hospital. Service 11 ...

(

Lafayette Journal and Courier

)
---
Pending obituaries for Wednesday
October 04, 2011
OXFORD - Betty Jean Anderson, 87, of Oxford, died at 2:35 a.m. Monday, Oct. 3, 2011, at Indiana University Health Arnett Hospital in Lafayette. Margaret Beam, 83 FLORA - Margaret Beam, 83, of Flora, died at 10:20 p.m. Thursday, Sept. 29, 2011, at Milner ...

(

Lafayette Journal and Courier

)
---
Sandra K. 'Sandy' Slusser
March 22, 2014
MONTICELLO — Sandra K. "Sandy" Slusser, 74, Monticello, passed away at 2:18 p.m. Friday, March 21, 2014, at Indiana University Health Arnett Hospital, Lafayette. A Celebration of Life service will be 5 p.m. today at Miller-Roscka Funeral Home ...

(

Pharos-Tribune

)
---
Katherine H. Scott
March 28, 2014
Polk Association. Survivors include daughters, Sherisse Scott Hurst of Knoxville and Kaye Scott (T. Scott) Smith of Sullivan's Island, South Carolina; son, Robert Harlan (Lena Towler) Scott, Sr. of Richmond, Virginia; grandchildren, Robert Harlan (Brooke ...

(

The Daily Herald

)
---
Purdue's Leslie Geddes had distinguished teaching, research career
October 26, 2009
WEST LAFAYETTE, Ind. — Leslie Geddes ... "His work has been a major factor behind Indiana's emergence as a national leader in biomedical industries. He will be missed by all of us at Purdue and around the globe." In 2004 Geddes received Purdue ...

(

lafayette-online

)
---
In Memory of Roy Lafayette Avery, Jr.
October 14, 2007
Roy Lafayette Avery, Jr., 63, passed into eternal peace on October ... Florida and Bonnie Moneyhan of Baton Rouge, Louisiana; son Roy (Scooter) Avery, III of Medart, Florida; nine grandchildren: Jessica Windham of Sopchoppy, Florida, Jennifer Pineirovigo ...

(

wakulla.com

)
---
Obituary: Marjorie G. Morris
September 03, 2013
A funeral took place Aug. 29. Memorial contributions may be made to Temple Beth Israel on Longboat Key, the Lafayette Symphony in Indiana or the Greater Lafayette Museum of Art in Indiana.

(

Longboat Observer

)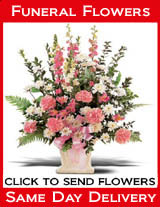 Funeral Homes
---
Funeral Glossary