Frankfort, Indiana Funeral Homes
Funeral flowers can be sent to any funeral home in Frankfort, Indiana. Beautiful sympathy floral arrangements for the ones you love.



Send a beautiful arrangement for around $50
---
501 E Clinton Street
(765) 659-3329
---
608 N Main Street
(765) 659-3356
---
200 S Main Street
(765) 654-5533
---
Send Sympathy Flowers to any Frankfort, Indiana Funeral Home.
---
---
Local Obituaries and News
---
John C. Keedy
September 30, 2013
As the leaves turned color, John ... Indiana!" He was preceded in death by his son William J. Keedy. Family and friends will gather from 3:00 to 7:00 p.m. on Friday October 4th in the Leppert Mortuary and Crematory, Nora Chapel , 740 East 86th St ...

(

legacy.com

)
---
Charles Herman McCall, Jr.
April 09, 2013
He was born June 7, 1935 in Clinton County ... Indiana. Services will be 11 a.m. Saturday, April 20, 2013 at Goodwin Funeral Home , Frankfort. Visitation will begin at 10 a.m. until time of service at the funeral home. Burial will be in Green Lawn Cemetery.

(

legacy.com

)
---
Obituary: Sarah V. Zerfas
February 17, 2007
FRANKFORT - Sarah V. "Ronnie" Zerfas, 88, Frankfort resident, died at 5:37 PM February 15, 2007, in the Mulberry Health and Retirement Community. Born: December 5, 1918, in Loogootee, Indiana. Parents: John Walter and Mary Sabina (Gough) Mattingly.

(

articles.southbendtribune.com

)
---
Obituary: Jacquelynn Arricka Mendoza
February 21, 2007
SOMERSET, IND. - Jacquelynn Arricka Mendoza, 27, of Somerset, IN, died at 10:36 a.m. Thursday, February 15, 2007, in Frankfort, Indiana. She was born September 7, 1979, in Wabash, Indiana, to Ramiro Mendoza and Connie (Christman) Crabtree. Arricka loved ...

(

articles.southbendtribune.com

)
---
John W. 'Bugsy' Baber
December 04, 2012
In addition to Frankfort basketball, he was also a fan of the Colts and Indiana University athletics ... Arrangements are entrusted to Genda Funeral Home in Frankfort.

(

Kokomo Tribune

)
---
Gerry Lynn Pamame
December 04, 2013
Gerry was born in Manistique on Aug. 16, 1957. She is survived by son, Nicolas Duford, of Traverse City; sisters, Agnes (Charles) Cross, of Indiana, Bertha (Marsh) Spaford, of Florida, Nancy (Ervin) Anderson, of Benzonia, Elizabeth (Paul) McGrath ...

(

Traverse City Record-Eagle

)
---
Lloyd Cheek
May 21, 2012
Lloyd Cheek, 81, Frankfort, formerly of Kokomo ... Lloyd was a 1949 graduate of Eastern High School, a 1953 graduate of Indiana University, and a veteran of the U.S. Air Force. Lloyd was a home builder and Realtor in Kokomo for 50 years.

(

Kokomo Tribune

)
---
Jane Colten
November 14, 2013
Indiana, Richard and Elizabeth Colten of Upper Saddle River, New Jersey. Services will be held on Saturday, December 14 at 1 p.m. at the S. Frankfort Presbyterian Church, 224 Steele St., Frankfort, Kentucky 40601. In lieu of flowers or other remembrances ...

(

The State Journal Frankfurt KY

)
---
Joseph Wallingford
July 24, 2013
He is survived by his daughter Mickey (Phil) Wilson, of Angola, Indiana, son Whitney (Jean Ann) Wallingford of Lexington, son Patrick (Angie) Wallingford of Frankfort, and grandchildren Robbie Jones (Angola, Indiana), Jay Jones (Lexington, Kentucky), Megan ...

(

The State Journal Frankfurt KY

)
---
Letah Sarah Simpson, 97
July 11, 2013
Letah graduated from Owosso (Michigan) High School and received further training at Malone College, Kletzing College, Indiana Wesleyan ... Arrangements are entrusted to Genda Funeral Home in Frankfort. Online condolences may be directed to ...

(

Greensburg Daily News

)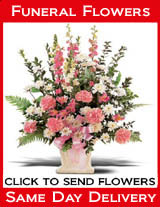 Funeral Homes
---
Funeral Glossary