Nashville, Georgia Funeral Homes
Funeral flowers can be sent to any funeral home in Nashville, Georgia. Beautiful sympathy floral arrangements for the ones you love.



Send a beautiful arrangement for around $50
---
1211 Martin Luther King Jr Dr
(229) 686-3651
---
1218 Adel Rd
(229) 686-2007
---
Send Sympathy Flowers to any Nashville, Georgia Funeral Home.
---
---
Local Obituaries and News
---
Obituary: William 'Bill' Madison Portman
February 25, 2014
Mr. Portman also served in "Y" positions in Danville, Va., and Marietta, Ga. After moving to the Nashville area in 1969, Mr. Portman served as the director of the East Nashville YMCA branch. Later he became the director of the Green Hills ...

(

Nashville Tennessean

)
---
Burma B. Meade
January 11, 2013
Meade of Mount Dora, FL on November 18, 1950. The family moved from Mt. Dora to Enigma, Ga., near Sapps Lake in 1979. She worked at the TG&Y store in Nashville, Ga., until she retired. In 1995 she and her husband moved to Lakeland to be near her daughter ...

(

Valdosta Daily Times

)
---
Georgia Clara Gaskins
November 15, 2013
Lamar Steverson (Gail) of Hilliard, Fla., and Ray Steverson (Gloria) of Willacoochee, Ga.; three sisters-in-law, Marie Steverson Mathis of Nashville, Ga., Vanita Steverson of Nashville, Ga., and Gloria Gaskins Ferrell (Mal) of Peachtree City, Ga.;

(

Valdosta Daily Times

)
---
Rev. Fred Hesters
February 13, 2014
Brother Fred Hesters, 88, of Nashville with his family by his side, went home to be with the Lord Thursday, Feb. 13, 2014 at South Georgia Medical Center in Valdosta. Funeral Services will be held at 3 p.m. Saturday at Nashville Mission with the Rev ...

(

Tifton Gazette

)
---
Obituaries for Nov 14
November 13, 2006
NASHVILLE, Ga. — Robert Randall Wynne, 56, of Nashville, Ga. died Saturday, Nov. 11, 2006 at Tift Regional Medical Center. Graveside services will be 2 p.m., today, Nov. 14 at Lawrence Cemetery with the Revs. Jimmy Fender and Steve Purvis officiating.

(

Moultrie Observer

)
---
William Otis "Butch" Adams Jr.
January 06, 2014
NASHVILLE — William Otis "Butch" Adams Jr.,45, of Nashville died Sunday, Jan. 5, 2014 at South Georgia Medical Center. Funeral services will be held at 11 a.m. Wednesday at Southside Baptist Church with the Rev. Austin Deloach officiating. Interment will ...

(

Tifton Gazette

)
---
Obituaries for Dec 19
December 18, 2006
NASHVILLE, Ga. — T.C. Hughes, 85, of Nashville, Ga. died Saturday, Dec. 17, 2006 at South Georgia Medical Center. Funeral services will be held 2 p.m., today, Dec. 19 in the Chapel of Lovein Funeral Home with the Revs. Vernon Hughes and Andy Cashwell ...

(

Moultrie Observer

)
---
Obituary: Paul W. Ogle
February 14, 2014
He was born in Nashville, the son of Pauline Jones Ogle and George Wallace Ogle of Hendersonville. He was a graduate of Montgomery Bell, a 1971 graduate of Georgia Tech, and was an enthusiastic pilot and photographer and enjoyed traveling and family.

(

Nashville Tennessean

)
---
Sally Akins Sheffield
November 29, 2012
Mrs. Sheffield passed away at her home in Cairo on Thursday, Nov. 29. Interment services are at 10 a.m., Saturday prior to the funeral service in Pleasant Cemetery, Nashville, Ga. Sally was born on Feb. 25, 1928, in Nashville, Ga., to the late John S.

(

Thomasville Times-Enterprise

)
---
Georgia Thieke
January 21, 2014
Georgia Thieke 76, of Russiaville went to be with the Lord ... Funeral services will be held at 11 am on Thursday, January 23, 2014 at Honeycreek Missionary Baptist Church at 250 Nashville St. in Russiaville with Rev. Lehman Hale officiating.

(

Kokomo Perspective

)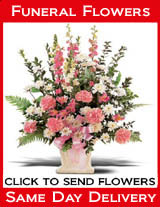 Funeral Homes
---
Funeral Glossary