Vacaville, California Funeral Homes
Funeral flowers can be sent to any funeral home in Vacaville, California. Beautiful sympathy floral arrangements for the ones you love.



Send a beautiful arrangement for around $50
---
212 Main St
Vacaville
,
California
95688
(707) 448-6546
---
180 E Monte Vista Ave
Vacaville
,
California
95688
(707) 455-7700
---
524 Elmira Rd
Vacaville
,
California
95687
(707) 446-3233
---
Send Sympathy Flowers to any Vacaville, California Funeral Home.
---
---
Local Obituaries and News
---
Obituary: Lawrence "Larry" Trone
March 26, 2014
Lawrence "Larry" Trone, 85 ... He received an Honorable Discharge from both wars. He worked at the Great Falls Tribune and various newspapers throughout the US as a sterotyper. He is survived by his wife of 41 years, Sharon Trone; three daughters from ...

(

krtv.com

)
---
THROWER, JANE
March 22, 2014
Jane was preceded in death by her husband James Tennyson Thrower. Survivors include two daughters, Patricia Thrower Conaway and Jane Thrower, II both of Dothan, AL; a son, Edward Porter Thrower of Panama City, FL; six grandchildren, Carol ...

(

Dothan Eagle

)
---
Obituary: Dentist and longtime Branchburg resident, Anthony 'Tony' Sollazzo, dies in California at age 76
April 20, 2010
Since 2008 he has resided in Fairfield, CA. He died Saturday, April 17, 2010, in Vacaville, California at Winsor House Convalescent Hospital of a heart attack. Anthony Sollazzo was born October 26, 1933, in New Brunswick, N.J., in humble surroundings.

(

New Jersey Online

)
---
Obituaries Published in March 23 California Democrat
March 21, 2011
He was born at California, Missouri on May 21 ... one brother, Delbert Bales of Vacaville, Calif.; and two sisters and a brother-in-law—June and Robert Greenfield of Hannah City, Ill., and Orleta Hindert of Peoria, Ill. She is also survived by 13 ...

(

californiademocrat.com

)
---
Obituary: Lawyer John A. Tosney, 62, was well-known bankruptcy specialist
January 29, 2014
Tosney, a prominent and prolific Northern California bankruptcy lawyer, died Jan. 11 of a heart ... seek relief by liquidating their assets under Chapter 7 or working out a repayment plan under Chapter 13 of the federal bankruptcy code.

(

Sacramento Bee

)
---
Obituary: Bob Garrison educated public about California wildlife and habitats
July 25, 2013
He co-authored "Northern California Nature Weekends," a popular hiking guide, with nature writer Jeanne Clark. Since 2007, he was director of the Utility Exploration Center, a public learning center in Roseville ... His mother was a school food service ...

(

Sacramento Bee

)
---
John Cornelius - Vacaville, Calif.
July 09, 2012
John Cornelius, 42, passed away unexpectedly at his residence in Vacaville, Calif., on May 26 ... duck hunting in the salt marshes of California with his friends and fishing with his kids. John married Anna Fitzgerald in September of 2004 and they later ...

(

Post-Bulletin

)
---
Ruby Margaret Cooper, Vacaville, Calif.
March 31, 2013
Ruby Margaret (Devine) Cooper, 96, of Vacaville, Calif., passed away March 18 ... Gale Wilson Blvd., Fairfield, CA 94533-9980. Arrangements have been entrusted to the care of the Nadeau Family Funeral Home, 707-455-7700, www.nadeaufuneralhome.com.

(

steamboattoday.com

)
---
Obituary: John Irvin Walker
June 08, 2002
John Irvin Walker, 86, of Vacaville, California, passed away June 1, 2002 while at home. He was born Nov 28, 1915, in Pleasant Grove, UT to George F. and Rose Richard-son Walker, the fourth of 10 chil-dren. He married Mary Jean Was-den Nov 10, 1942 ...

(

Deseret News

)
---
Obituary: 'Gil' Graves
April 24, 2013
Gilbert James Graves passed away at his home in Redding, California on April 5 ... Gil is survived by his daughter, Jane (and Milt) Wingert of Vacaville; grandsons, Mike (and Romina) Wingert of Burbank, Greg (and Rochelle) Wingert of Studio City, Scott ...

(

Mount Shasta Herald

)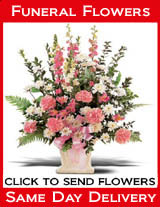 Funeral Homes
---
Funeral Glossary