Moundville, Alabama Funeral Homes
Funeral flowers can be sent to any funeral home in Moundville, Alabama. Beautiful sympathy floral arrangements for the ones you love.



Send a beautiful arrangement for around $50
---
39750 Alabama Hwy 69 S
Moundville
,
Alabama
35474
(205) 371-6868
---
Send Sympathy Flowers to any Moundville, Alabama Funeral Home.
---
---
Local Obituaries and News
---
Former Cypress Post Office Postmistress, Sara Anne Thornton, age 81; today's Birmingham obituaries
July 19, 2011
Sara Anne Thornton, age 81, of Moundville, AL, passed away July 17, 2011. She was a graduate of Hale County High School. Sara Anne attended Stephens College for Women and then the University of Alabama, where she met Ed, the love of her life. She was a fun ...

(

Everything Alabama Blog

)
---
The Selma Times‑Journal
November 09, 2005
Burial followed at The Cooper Cemetery in Centreville, Al. Directed by Lee-Rollins Funeral Home. Mildred I. Toosen Mildred I. Toosen, 71, of Moundville, Al., died November 7, 2005 at a hospital in Tuscaloosa. Funeral services will be scheduled for Saturday ...

(

Selam Times-Journal

)
---
Obituaries for Tues., Feb. 28
February 28, 2012
Mike Higgins of Alexander City, Tina and Doug Whittenburg of Moundville, Pa., Ginger and Mike Miller of ... Honorary pallbearers were Benny Dunn; Covington County farmers; Alabama Farmers Cooperative staff, employees, and board; and the Andalusia High ...

(

Andalusia Star News

)
---
The Selma Times‑Journal
June 25, 2002
She was a member of New Shiloh Baptist Church, a devoted wife, mother, grandmother, and sister. Bessie Lee Montz Bessie Lee Montz, 83, of Moundville, died Tuesday, June 24, 2003 at a Tuscaloosa hospital. Services are at 2 p.m. Thursday, June 26 ...

(

Selam Times-Journal

)
---
Woman, 32, killed in single-car wreck
October 25, 2010
A Moundville woman was killed ... 10:25 p.m. on Hale County Road 44. Alabama State Troopers are investigating. Gray was a 1997 Tuscaloosa County High School graduate, according to the obituary published in the Tuscaloosa News. She is survived by her ...

(

Tuscaloosa News

)
---
Mary Sue Johnson
January 30, 2011
Burial to follow in the Oak Hill Cemetery in Moundville, Alabama. Visitation will be Sunday, January 30, 2011 from 6 to 8 P.M. at Bumpers Funeral Home. Johnson passed away on Friday, January 28, 2011 at her residence. She is survived by her husband Sammy ...

(

WTOK-TV

)
---
Janet Cotton
November 01, 2012
Janet is survived by her husband, Fred Cotton of Zephyrhills, FL; son, Douglas (Ann) Cotton of Bixby, OK; daughter, Diane Hofstadter of Ramsey, MN; sister, Karen Marten of Moundville, AL; three grandchildren ... please visit obituaries at www.lenmarkfh.com.

(

Eau Claire Leader-Telegram

)
---
Raymond "Buzzy" Waters, Jr.
October 09, 2013
1950 Park West Drive, Northport, AL 35476; Tuscaloosa Chapter National Wild Turkey Federation, 242, 22nd Street, SW, Gordo, AL 35466; or to Moundville United Methodist church, P.O. Box 35, Moundville, AL 35474.

(

True Citizen

)
---
George Edward (Eddy) Williams
November 09, 2012
They made their home in Lafayette, LA ... the Louisiana Bar Foundation. Eddy's greatest joy was his family. He so enjoyed time with them whether at LSU games, hunting, fishing, golfing, or just spending time at home with them and his pets, Chandler ...

(

Demopolis Times

)
---
FRED L. HARMON
August 19, 2012
m. in the Weatherly Chapel. Those left to cherish precious memories of him are: his wife, Gladys Harmon and one son, Rev. Bruce Harmon, both of Moundville, Alabama; one devoted sister, Maxine Johnson, Cuba, Alabama; seven (7) grandchildren; one brother and ...

(

WTOK-TV

)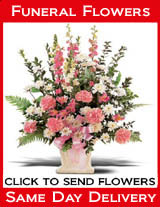 Funeral Homes
---
Funeral Glossary