Moundville, Alabama Funeral Homes
Funeral flowers can be sent to any funeral home in Moundville, Alabama. Beautiful sympathy floral arrangements for the ones you love.



Send a beautiful arrangement for around $50
---
39750 Alabama Hwy 69 S
Moundville
,
Alabama
35474
(205) 371-6868
---
Send Sympathy Flowers to any Moundville, Alabama Funeral Home.
---
---
Local Obituaries and News
---
Robert L. Wiggins
February 14, 2013
MOUNDVILLE Robert L. "Slick" Wiggins, age 93, of Moundville, died Feb. 10, 2013, at Hospice of West Alabama. Services will be 1 p.m. Saturday at Moundville Baptist Church with Bro. Don Smith and Bro. Ed King officiating. Private family burial will take ...

(

legacy.com

)
---
Elsie T. Bedsole
April 12, 2013
In lieu of flowers, the family requests that donations be made to United Methodist Church of Moundville Building Fund, P.O. Box 35, Moundville, AL 35474.

(

legacy.com

)
---
Former Cypress Post Office Postmistress, Sara Anne Thornton, age 81; today's Birmingham obituaries
July 19, 2011
Sara Anne Thornton, age 81, of Moundville, AL, passed away July 17, 2011. She was a graduate of Hale County High School. Sara Anne attended Stephens College for Women and then the University of Alabama, where she met Ed, the love of her life. She was a fun ...

(

Everything Alabama Blog

)
---
The Selma Times‑Journal
November 09, 2005
Burial followed at The Cooper Cemetery in Centreville, Al. Directed by Lee-Rollins Funeral Home. Mildred I. Toosen Mildred I. Toosen, 71, of Moundville, Al., died November 7, 2005 at a hospital in Tuscaloosa. Funeral services will be scheduled for Saturday ...

(

Selam Times-Journal

)
---
Obituaries 12-28
December 27, 2004
O'Bryant Chapel Funeral ... Greensboro. Funeral services were held on Sunday, Dec. 26, 2004 at 1:30 p.m. at Bass Tabernacle CME Church in Akron with the Rev. Glenn Jones, Sr. officiating. Public viewing was from 12:45 until 1:30 p.m. Washington&Paige ...

(

Demopolis Times

)
---
Obituaries for Tues., Feb. 28
February 28, 2012
Feb. 28, at the First Baptist Church of Florala with the Rev. Shane Norris and the Rev. Charlie ... Honorary pallbearers were Benny Dunn; Covington County farmers; Alabama Farmers Cooperative staff, employees, and board; and the Andalusia High School ...

(

Andalusia Star News

)
---
The Selma Times‑Journal
June 25, 2002
She was a member of New Shiloh Baptist Church, a devoted wife, mother, grandmother, and sister. Bessie Lee Montz Bessie Lee Montz, 83, of Moundville, died Tuesday, June 24, 2003 at a Tuscaloosa hospital. Services are at 2 p.m. Thursday, June 26 ...

(

Selam Times-Journal

)
---
Raymond "Buzzy" Waters, Jr.
October 09, 2013
1950 Park West Drive, Northport, AL 35476; Tuscaloosa Chapter National Wild Turkey Federation, 242, 22nd Street, SW, Gordo, AL 35466; or to Moundville United Methodist church, P.O. Box 35, Moundville, AL 35474.

(

True Citizen

)
---
Ms. Mattie Jean Guthrie Warbingston
May 16, 2010
She is survived by her son Daren Warbington and wife Nisha of Coker, Alabama; daughters Beth Mozingo and husband Carlos of Lisman; Freda Smithson of Moundville, Alabama; 6 grandchildren Andrew, Mary Ashley, Allie Rae, Guy, Charlene and Jonathan ...

(

WTOK-TV

)
---
GAINES AUBREY OWENS
August 02, 2012
AL 36331. Mr. Owens was born May 21, 1932 in Moundville, to the late Lamar Woodfin and Ida McCray Owens. He served in the United States Air Force from May 1950 until his retirement as a Master Sergeant E7 in July 1970. He was also a retired real estate ...

(

southeastsun.com

)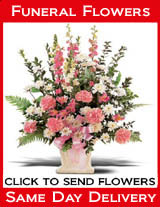 Funeral Homes
---
Funeral Glossary